"You're constantly learning and constantly faced with new challenges. Le Wagon challenged me in the best way possible."
Hi Alex, could you please introduce yourself?
Hello, I'm Alex and I'm originally from the UK. I just moved to Amsterdam last year with my previous company where I was working in QA. I then decided to join Le Wagon over the Summer of 2021 and upon graduating, Ianded a job as a Junior Developer.


Can you tell us about your background before joining Le Wagon?
During my bachelors I studied history and German. I really enjoyed my studies, but I felt as though there wasn't too much practical application for it. I especially got this sense when I began looking for jobs. With this being said, I ended up getting a position at a hospitality startup in London. I began working in customer support and sales operations based on my German language skills. Before this, I had actually worked in the hospitality industry on and off for about 10 years, most recently running a pub with a few people, so I had a lot of prior knowledge and first-hand experience in the industry.

After a few months in this role, they were looking for someone to do QA. I jumped at the opportunity and by the end of my time there I was working as a QA Lead with a team of three. In this role, we were working on testing a web application and a mobile application. This inspired me to move into a more technical role. I then took the leap, joined Le Wagon and shortly after graduating, I started my current role as a Junior Developer.


What made you want to learn how to code and join our Web Development Bootcamp?
A few years ago when I worked in the hospitality industry we did a lot of social media outreach and we had quite an outdated website. I took it upon myself to put together a very basic website. This made me realise that I really enjoyed the puzzle of putting something together and seeing how people interact with the product via analytics. Basically I had made a basic website using Wix, but I wanted a greater challenge, so I decided to learn how to code one on my own.

A few years later, I had begun my role at the startup in London. During this time, I moved quite quickly into the tech department. I really enjoyed finding bugs and seeing how the developers would work through them and find fixes. There was such a great sense of achievement in this process I wanted to be able to complete this process myself. I then began to take some part-time courses, but I found I wasn't moving forward quickly enough. I decided that the best way to improve my skills and demonstrate that I had something good to offer was to do something full-time, giving this new journey a real go. That's when I decided that I should join Le Wagon.


Can you tell us about your journey going through the bootcamp?
I think that there's a really supportive community at Le Wagon overall. Right from the start, this gave me a great deal of confidence as there are so many people that have gone through the process and succeeded. There's also this great sense of support in all of the Slack channels and within the bootcamp itself.
Something that always worried me before and during the bootcamp was the feeling of self doubt. This partially came from me not having a technical background and having studied humanities. With this being said, having such a supportive community made all of the difference. There was a big emphasis on the fact that this was a tough journey and there would be days that you'd doubt yourself, but we were always told to trust the process.
One of the biggest takeaways for me was a shift in this mindset. I realised that it was okay to be stuck or not know what was going on because that's when you learn. That feeling is why this is a rewarding and exciting industry to be in. You're constantly learning and constantly faced with new challenges. Le Wagon challenged me in the best way possible.
I also really enjoyed the community activities and there was a big emphasis on mental health, which was really nice. We had weekly yoga and meditation sessions and taking time to relax was given the right amount of importance. It was really nice to be reminded to look after ourselves, especially having been put in this challenging position of learning a new skill set in a short period of time. The bootcamp is a marathon and not a sprint, so you need to take it day by day and trust the process.
Having spent so much time together, you also form a great network of contacts in the same city who are doing similar things. This is also a big takeaway for me. It's really nice to see everyones' progression after the bootcamp and seeing that people have come out of the process and accomplished the things that they wanted to get out of it.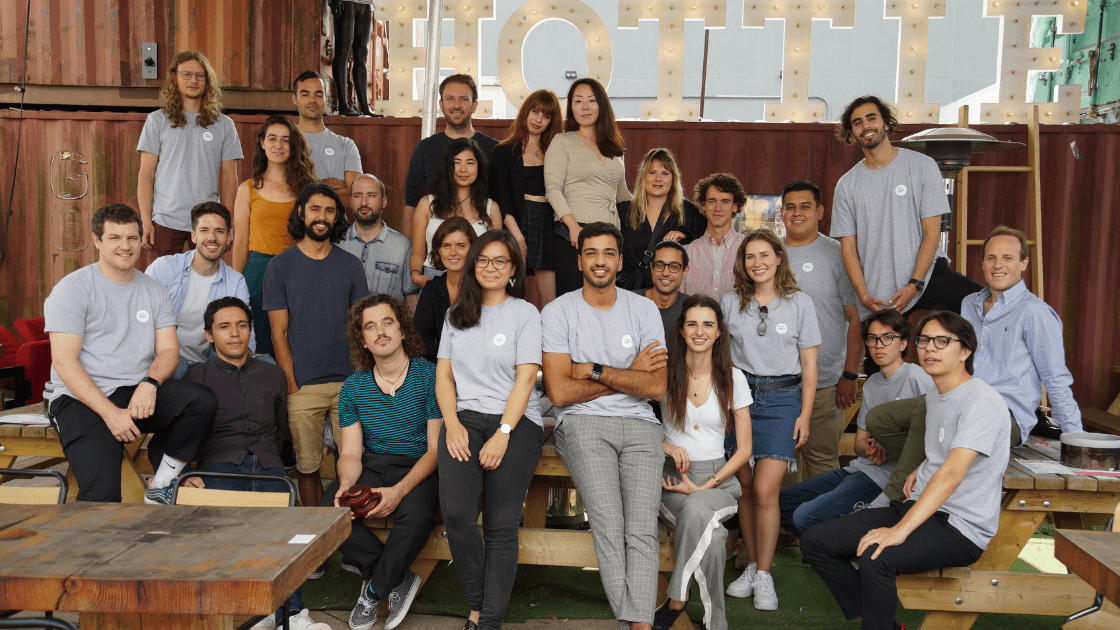 How was your experience finding a new position upon graduating?
Honestly, it went surprisingly smoothly. I managed to find something before finishing the bootcamp and started my new role two days after graduating! There's such a high demand for web developers at the moment and I believe that having done a bootcamp greatly plays to your advantage as it shows that you really want this - you've quit your job and done this intensive training. I think this is already a sign to people that you're serious about it and that you're really excited and passionate about the industry. It kind of ticks that box immediately.

When I was applying to roles, I was quite nervous about the technical challenges, but it actually ended up being a really nice learning experience for me. I was able to discuss the challenge with the developers and get constructive feedback. With this being said, even if you don't think you're qualified, a big piece of advice is to just go for it, because the worst that can happen is that you learn from your experience.


Now that you're working as a Junior Developer at FUGA, can you tell us about your day-to-day job?
At
FUGA
, I'm working on a product that allows music labels and music distributors to calculate how much they need to pay their clients from all of the different streaming services. A big part of my role is processing sales reports, and we had done a lot of similar work to this in the bootcamp. The position is also completely focused on Ruby. I've been able to further develop what I learned at the bootcamp and also have pushed my boundaries and learned a great deal more as well. A lot of what we had covered in the bootcamp has come up in my day-to-day role, which is a great sign that what we were learning is really relevant!
Finally, do you have any advice for someone thinking of joining the Le Wagon community?
Just go for it, you have nothing to lose! For me, part of doing the bootcamp was working out if this was something I truly wanted to do. After forcing myself to sit down and code all day for nine weeks, I knew that this was something I really wanted to do.

If you really want to increase the speed of change and the speed of learning, this is the best way to do it. Doing a bootcamp is the most effective way to properly engage with a new discipline. I recommend that you take your time to really focus on this and see where it takes you.


Thank you, Alex!