What is a Bildungsgutschein?
A Bildungsgutschein is an education voucher issued by the Agentur für Arbeit or Jobcenter. The aim of the Bildungsgutschein is to train people with new skills in order to find a new career path or job. 💪 You can learn data science or web development entirely for free on our campuses in Berlin or Munich or you can also do it fully remote.
Who can receive a Bildungsgutschein?
These are the requirements to get a Bildungsgutschein:
(1) Be registered as a resident in Germany and as unemployed at the Agentur für Arbeit or Jobcenter.
(2) Or be registered as a resident in Germany and on Kurzarbeit.

Anyone with these above-mentioned criteria can get a Bildungsgutschein. We've had teachers, founders, violinists, bankers, marketers, cooks, filmmakers and many more doing our course with a Bildungsgutschein in the past. Motivation is the key to making your career change into tech a reality!
How can I get a Bildungsgutschein?
We've already trained over 350 people on our bootcamp who learned to code with a Bildungsgutschein! Getting a Bildungsgutschein is easier than you think:
(1) Contact your Agentur für Arbeit (or Jobcenter) and set up an appointment.
(2) Download our information pack for your appointment and bring the information package to your appointment.
(3) Apply to our coding bootcamp and pass an interview with our Admissions team.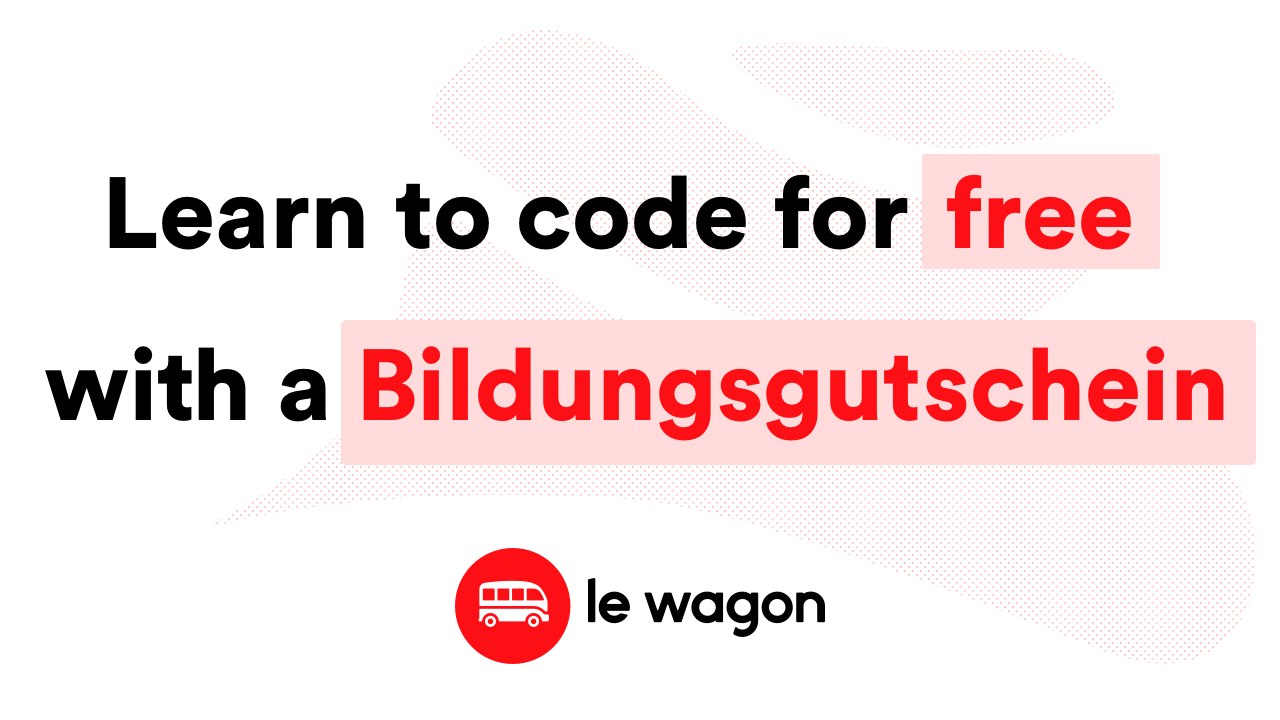 How can I use my Bildungsgutschein at Le Wagon?
You can use your Bildungsgutschein for our courses on our campuses in Berlin or Munich or fully remotely 🏡 . We offer the following courses:


Web Development: full-time and part-time - learning the fundamentals of programming, developing a toolkit for UI/UX design, prototyping, and building digital products. No prerequisites.
Data Science: full-time only - learning how to use Python for data analysis, understanding machine learning models, using the latest toolkit, and real data sets. Prerequisites: Minimum mathematics until 18 years old and basic knowledge of Python programming.
Our Full-Time and Part-Time course is the same for everyone. You will study and work together on the same schedule and in the same group as students who do the course without the Bildungsgutschein.


There are some special procedures for students who participate in the course with a Bildungsgutschein:


Students taking the course with a Bildungsgutschein have to complete Le Wagon's preparation work in the local office one week before the start of the Bootcamp. The preparation work will take around 55 hours in total, so please already start with it before you come into the office.
Students taking the course with a Bildungsgutschein have to attend the Career Week 🏋️‍♀️, which takes place one week after the end of the Bootcamp.
What are the career services after the bootcamp?
Our aim is to give our graduates as much knowledge as possible to get them ready for the job market by organising various initiatives:


One of them is our career week 🚀, the week after the Bootcamp, we work on CVs, cover letters, and practice coding interviews with our recent graduates.
Next to the career week, our alumni receive 5 to 10 job offers every week 💼. They can also schedule a 15 minutes consultation with our Partnerships & Careers Manager. We help graduates with applying for jobs, writing cover letters, and preparing for the coding challenge.
Finally, we organise one hiring session every week 📣 . Companies get privileged access to our community and alumni. Before the session, our alumni get the chance to work on a coding challenge that the company will deliver. After the one hour session, the companies receive our alumni's CVs and the solutions to the coding challenges.
Frequently asked questions
1. Does the Bildungsgutschein cover the entire course fee?
Yes! If you receive a positive answer from your contact person at the Jobcenter or Agentur für Arbeit, you can do our course completely for free 🤑.

2. Does the course taken with the Bildungsgutschein differ from the normal course?
Yes! With a Bildungsgutschein our preparation week, during the week prior to the Bootcamp, and the career week, during the week following our Bootcamp, are mandatory for you.

3. Does the Bildungsgutschein cover hardware and accommodation costs?
No! You will have to bring your own hardware 💻 (e.g. laptop). You also have to have in mind your living costs (accommodation, groceries,...) which won't be covered by the Bildungsgutschein.

4. Is the Bildungsgutschein eligible for other cities?
The Bildungsgutschein can only be used in Germany 🇩🇪. For now, we are only operating in Berlin and Munich.

**Apply here to do our bootcamps with a Bildungsgutschein**
More resources👇