Reed is a former student of Le Wagon's batch 163 in Bali. We met him seven months after finishing the bootcamp. Today, he's a full stack web developer in Knoxville, Tennessee. Through this interview, we got the details on the life he's living now and the reason why he decided to join Le Wagon.


What's your professional background?
I have a Bachelor in Biology. After my degree, I began work as a Product Manager in a startup that produces cider. I kept at this path until I discovered coding. It was then I decided to change my route.


What prompted the start of your coding journey?
I had a friend who was working with Python. In talking with him, I discovered I could automate certain parts of my jobs by writing scripts. So, with my curiosity piqued, I began to peruse free online resources to learn Python. Afterward, I moved onto HTML, CSS and even JavaScript, but the learning didn't happen fast enough for my liking. I didn't have anyone asking me questions or guiding me in the right direction.

I got passionate about coding fairly quickly. What excites me most about coding is the ability to craft something novel each day, as well as the professional freedom it insights and the ability to save humanity's most valuable resource, time.
Once I realized I needed a teacher, I scraped the web in search of the right bootcamp for me. Le Wagon appealed to me because of the startup mindset and emphasis on project development. From the beginning, I loved the fact that the course "brings technical skills to creative people."
For me, being able to bring ideas to fruition is key. Since I love to travel and discover new places, the bootcamp's location in Bali was the icing on the cake.


How was your experience with the course?
Overall, Le Wagon was nothing shy of an awesome experience. I spent a memorable two months in Bali, coding in a group of beautiful people and learning a ton along the way. There's no doubt that the bootcamp is intense and requires plenty of commitment. However, the important thing is to remain focused and relaxed during your studies.
After a long day of coding, I had the opportunity to relax and disconnect, refreshing myself and getting ready for the following day. Due to the fact that you learn so much, it's impossible to absorb each little thing every day, but if you stay focused, everything will come together in the end.
And I must admit, a perfect Bali day of surfing in the morning, coding all day long and relaxing in the evening wasn't half bad.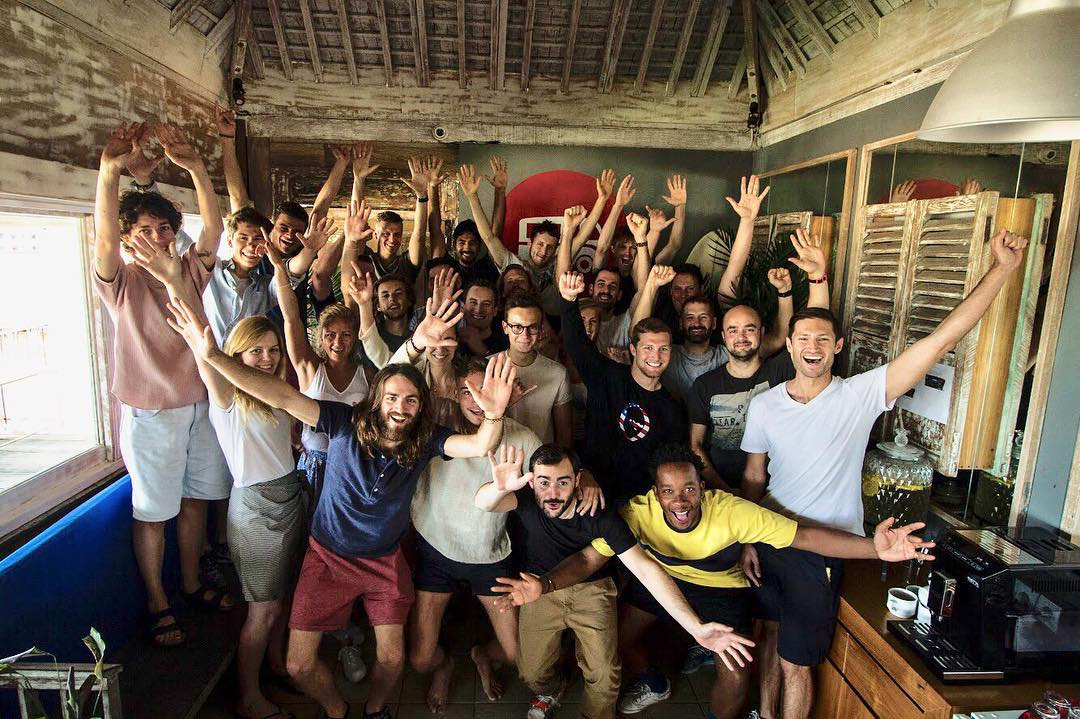 What did you go on to do after the course?
The bootcamp itself is just the beginning. First of all, after Le Wagon, I continued to code. The course gives you all the foundation you need for coding independence, so I noticed soon after that if you don't continue training, you'll likely lose your knowledge before you know it.

After the bootcamp, I travelled for a couple of months while maintaining discipline with my coding practice. Back in the US, I began to search for a job, doing several interviews and completing multiple coding challenges with various companies. After just a couple months, I landed a gig as Junior Rails Developer in a web agency.


How has the switch been from bootcamp to a company?
Le Wagon teaches a ton of tools and practices that are used in companies, which is great because it means students have strong fundamentals from the start. In the company I work for, we primarily use Ruby on Rails, and I work every day using tools and gems I learned during the bootcamp.

In just nine weeks of coding bootcamp, you touch on a lot of topics, but there's no way you can become an expert on those straight away. I'd say that the course gave incredibly solid foundations, and then it was up to me to keep building on it. Now, I code every day for multiple hours, and I'm gaining more and more expertise. My skills as a developer increase with each day.

I work with senior developers, and this opportunity allows me to learn a ton of things right on the job. It's intense—even more so than the bootcamp itself—but it's also a lot of fun, and surely never boring. Coding is a never-ending learning journey, and I think a developer never stops discovering.


What kind of projects are you currently working on?
The company I work for manages a lot of projects, which is awesome as it allows me to keep facing different problems. We work for several clients, so each week I move on to work on new applications. I also started to code in React Native in order to build mobile apps, which is very exciting for me.


What's your plan for the future?
My long-term goal is to go fully remote. Now, I can work remotely from time to time, but working in a collaborative office environment helps me improve day after day. I love the atmosphere in the office, where I can work with experienced professionals and learn a ton.


Any suggestions for someone wanting to join the bootcamp?
Well, what can I say? Just do it! You won't regret it.