Who are you and what is Tray.io?
I'm the Technical Talent Manager at Tray.io. I create the process to help us find, develop and look after the best Engineers we can find for our problem space.
We wanted to give the power of technology back to the everyday user. So Tray at it's core, is a visual programming tool for APIs. It's a low-code user experience that allows anyone to precisely instrument the data flow between SaaS tools.
We're creating a world of citizen automators with a drag & drop interface and enterprise grade architecture.
What are quality candidates? Are they product focused?
There are a few things we look for in our team... collectively we're curious, empathetic, honest, inclusive and we focus on delivering a good service. Asking questions is a really important part of who we are, we want to make things better for those around us and it starts with being open & understanding. Of course professionally this centres in technology, but we really love it when these questions come from and lead to true initiative.

We want our team to empathise with our customers, to really get the problems they need fixed. We need our team to forage through the world of technology and to problem solve so we can create solutions. And we know we will do it all better if we understand each other and intimately know each other's cultures and backgrounds to ultimately make our tool and our workplace better for everyone.
Do they need to also have a business vision of the product? Is it important & why?
The tray product is a pretty complex one, the basic concept effectively required us to replicate everything you could do one the internet... then we wanted to allow people to control with it a whiteboard. What keeps us ticking, growing and our platform running is a genuine passion and understanding for deep theoretical problems and this is what we want to see. In essence what we do is driven by data and we want to find more powerful algorithmic and HCI focused minds that are really excited by using engineering concepts to create solutions for humans.


It's a technology-first product so I guess in our world the vision of the "product" is one in which Engineers, not just designers or product managers are doing a lot of the critical thinking and problem solving.
Have you worked with Le Wagon before?
I have been at Tray.io for 5 months now and I've been very lucky to have already hired two great alumni from Le Wagon. We also work with other bootcamps (Sorry Katherine, Alexandre and Arthur). And the reason is an easy one, we are a team that get out of bed in the morning excited to face novel problems at the edge of what's technically possible and bootcamp grads have made an, often expensive and intense, commitment to software engineering which always comes with a motivation to experiment, learn and get stuff done.

The Le Wagon course in particular is a fast-moving one; it's proof of adaptability, covering core concepts of engineering and encouraging real-life agile principles in collaborative environments, which is a mirror for the open and autonomous environment we foster in our studio.


Our Le Wagon alumni have shown us awesome technical aptitude and the ability to quickly pick up new concepts and tools. We've seen a powerful independence in both delivery and in learning and have always felt a genuine affinity for open collaboration from both.
How big is your tech team?
We have just over 50 in the team. Our team is broken down into 7 mission purpose squads working across different parts of the ecosystem and the other products under our band. Lead by one of our Founding team and CTO Ali, supported by Alberto our Director of Engineering, myself and the world's greatest office manager.


We're also hiring in 4 new Engineering Managers to take a hands-on approach to individualised support across these squads so we can keep investing in our Engineers.
What training do you offer?
We're still growing and are constantly bolstering our Learning & Development programme but it starts with me on Day 1: I create our Engineers on-boarding programmes myself based on conversations with our newcomers on how they like to learn and what will help them get productive; we cherry pick from a range of different methods like self-guided practical experimentation, comprehensive human documentation, 1-1 meetings and hands-on shadowing as well as sandbagging certain work for newcomer's arrivals as stepping stone projects.
How do you onboard junior devs?
The on-boading programme spans the first months and combines high-context customer empathy topics, with expert training on our platform as well as technical product and system overviews and technical introductions with our tools. We also create cross-team meetings to help everyone feel comfortable knowing the architecture of the team as well as befriending people across it.

From there monthly self-guided 1-1s with our Engineering leadership will help make sure your footsteps are in the right direction and you're getting the support you need in your day to day. Everyone has their own learning & development budget too, to spend freely on books, conferences or formal certifications and we are free to take time off for these things too.


Our team takes a lot of initiative on learning too, like I said, curiosity drives a lot of what we do here....

We run our own code dojo workshops, internal tech.friday talks, both weekly, and hackathons. Our team are also active members in their communities, sponsoring and talking at conferences and meet-ups and workshops. There's a lot of movement between the teams here and we have a lot of doting Senior Engineers who happily shared their time generously for training and supporting others on the job.
We believe APIs are the key to creating a world of, as our marketing team like to call them, Citizen Automators.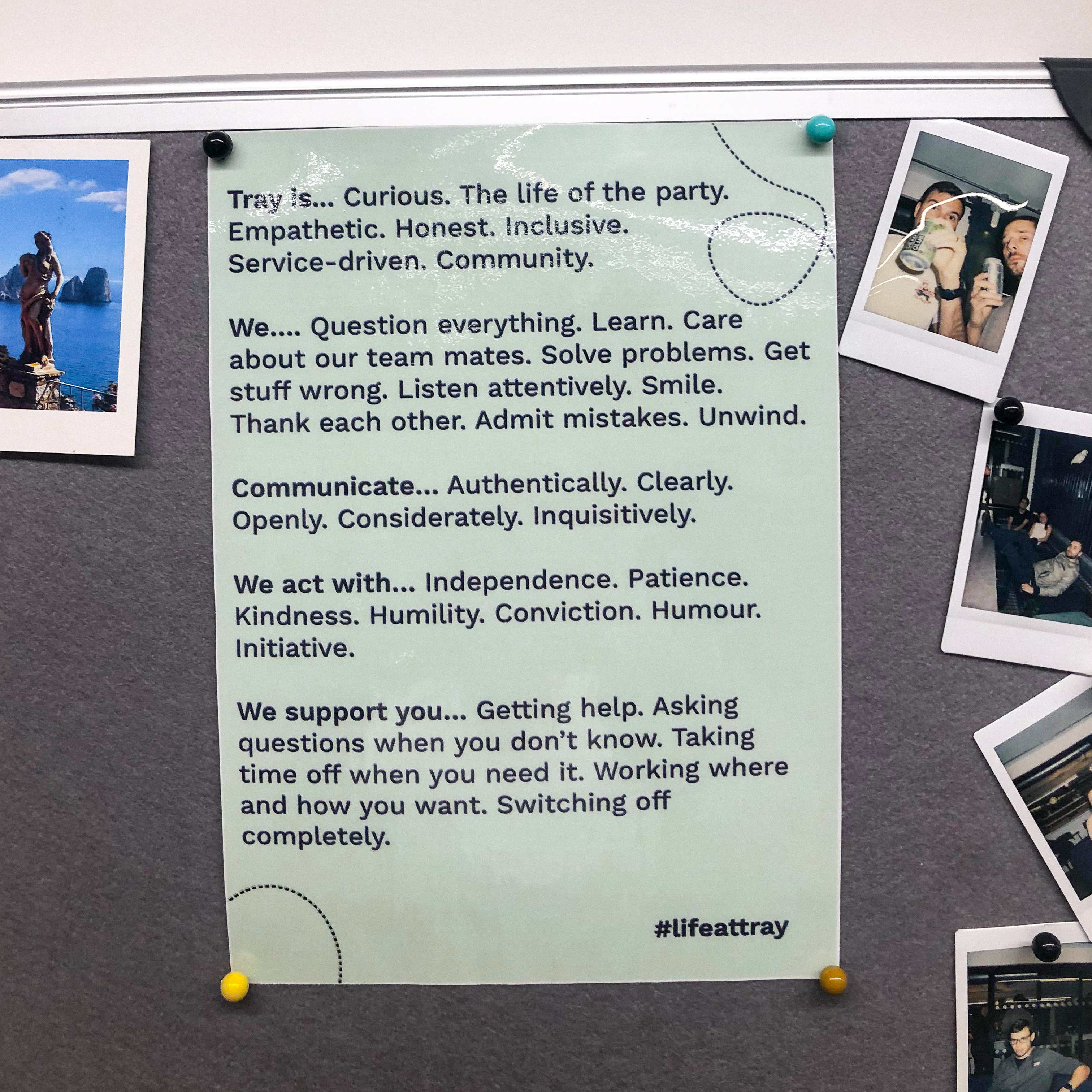 So we are always looking for people with exposure to creating APIs and connecting disparate services into coherent data pipelines. But beyond the technical skill there's a human-side to this, exposure to wider business process and commercial acumen; a background that
helps our Engineers to understand why are customers and using our tool
and the solutions that it helps them to create!
Within a rapid innovation team there's also a need for strong emergent leadership skills, those who have the nause to step forward and to lead when they have the answer to a problem but are just as happy to step back when they don't. In our team of mixed backgrounds and skills this is the drive shaft that keeps our wheels always moving through different problem spaces.
What do you think about the Ruby community?
Ruby is a great language, it has a human syntax that's easy to write and read; making it a powerful tool for collaboration and it's also hugely adaptable. As a language used by learners it has a self-motivating feel like that of a tide that helps collectively push everyone toward solving problems, finding answers and has a plethora of apps and websites created with in it that make it Junior Engineers pinterest board for inspiration.

Ruby and rails also focus on object oriented programming and MVC architecture which is very relevant today, particularly to us, so this makes it easy to transfer the more functional elements of programming to learning another language.


Our Senior Engineers are also generous, there's lots of on the job problem solving and troubleshooting when speed bumps are hit and we're also now investing heavily into our Engineering leadership team.

We want to create some really progressive and transparent progression frameworks, mentorship programmes, and on a basic level have even more time to spend sat shoulder-to-shoulder to help problem solve and support.
Follow Tray on instagram #lifeattray
Join our hiring network
here