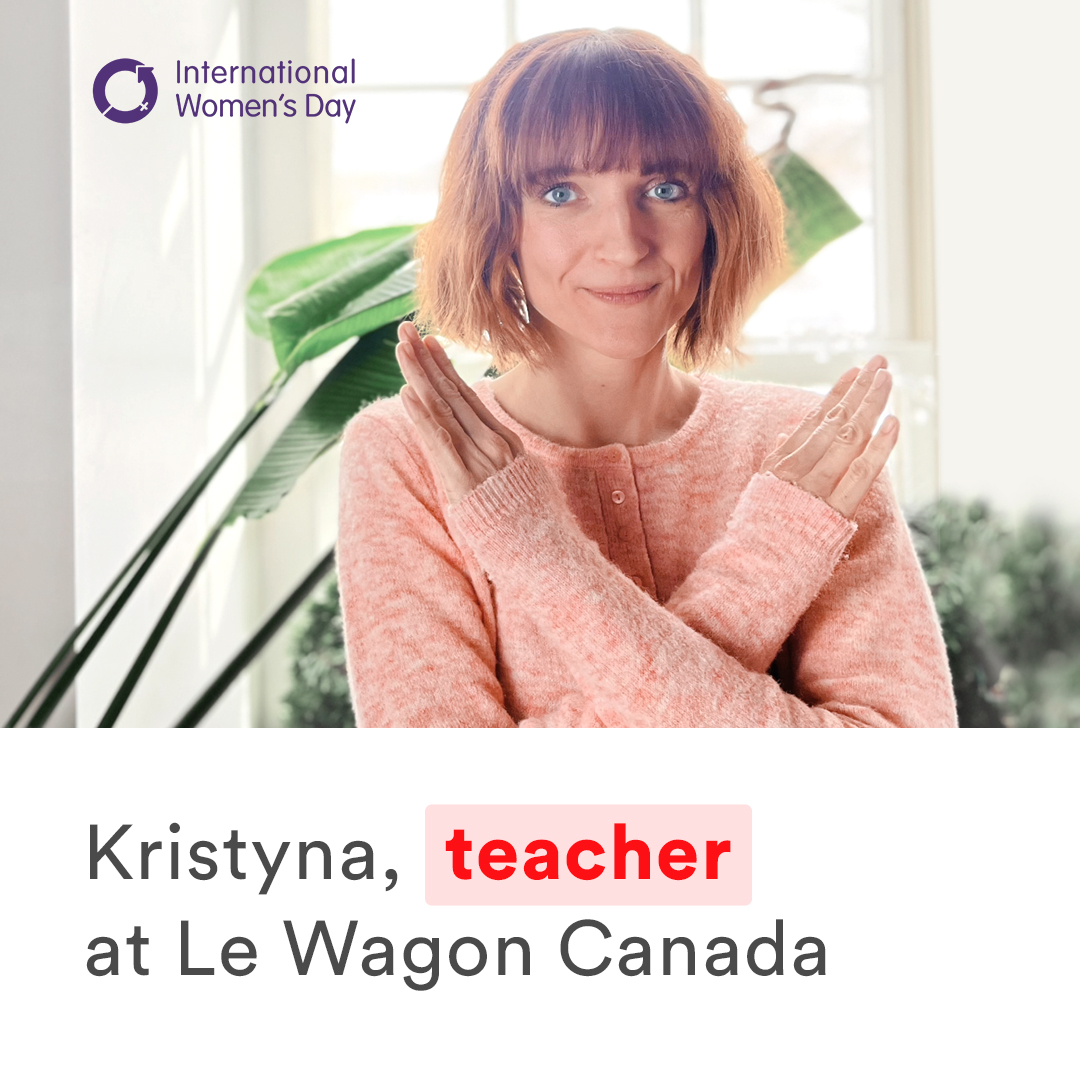 "My name is Kristyna, I am a freelancer in front-end development and UX/UI design, Web Integrator for Nestle - Nespresso and a teacher at Le Wagon. Before I was working for 10 years as a marketing manager for multinational corporations such as L' Oréal and Coty Inc.
I decided to start a career in tech when at one point during my marketing career, I wanted to focus more on the tech industry and become more flexible in my work schedule. I was always intrigued by users' behaviour when I was planning my marketing campaigns so a career as a UX designer was a pretty clear choice for me. However, my strategy is "If you want to make a great Bolognese, you need to first master how to make the best spaghettis". So first I decided to join Le Wagon in Montreal to learn how to code and now I am working hard on my career in UX/UI design.
Now, I work on a few side projects as a freelancer: From complete website development to mockups and coding! This way I use my marketing experience, practice UX thinking, as well as web development. At the same time, I am sharing my experience with Le Wagon students and working for Nestle - Nespresso as a web integrator to learn more about "big-scale" approaches towards user's behaviour, usability, testing and overall web development.
My tip for women looking to start a career in tech is: do not be afraid to leave everything behind, jump into the black hole and grab every opportunity that life brings you. If you work hard, you will succeed to achieve your dreams. The Tech industry is a very masculine world and it needs your contribution."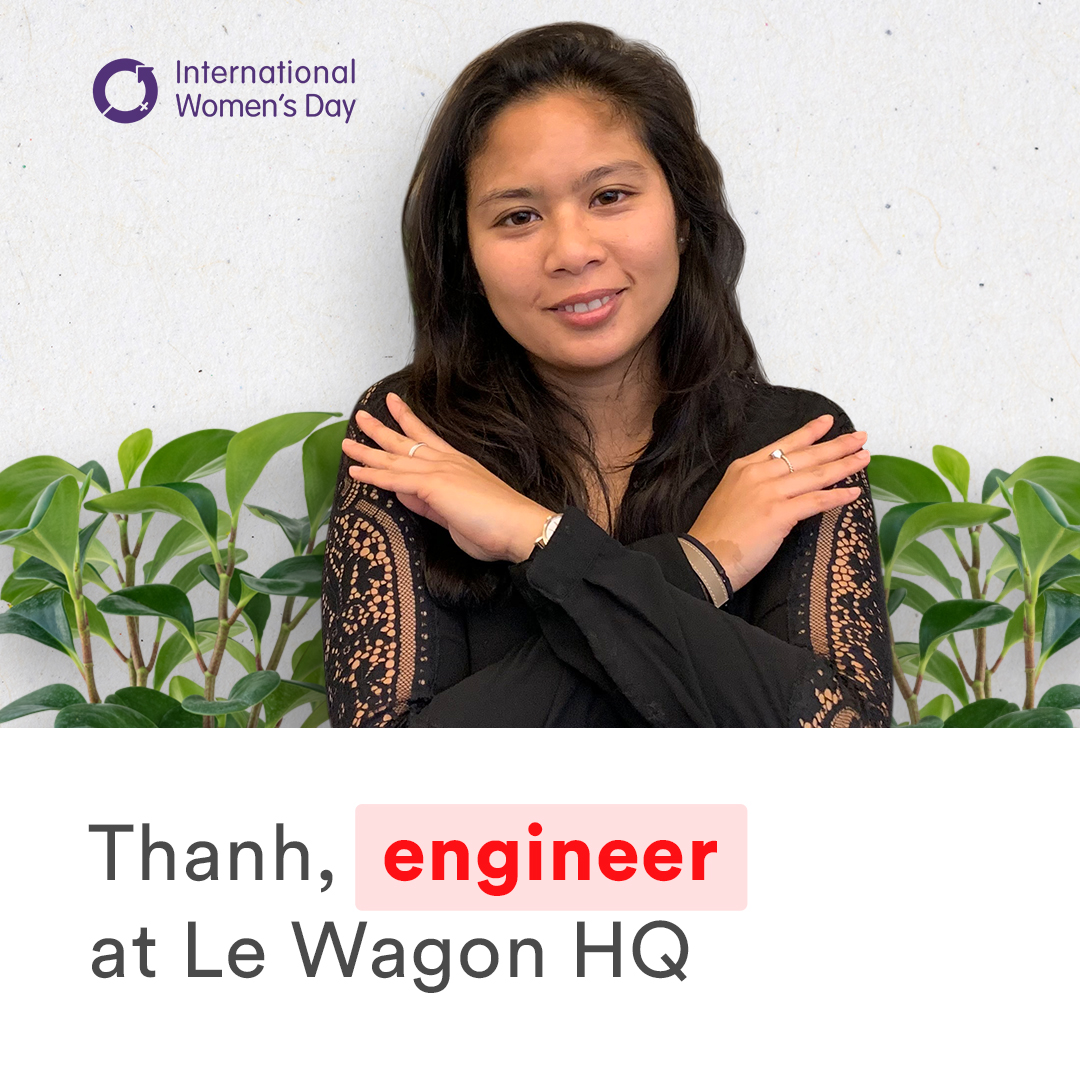 "My name is Thanh and I am French / Vietnamese. I now work as a Software Engineer for Le Wagon, and formerly was a Lead Teacher for our campus in Paris.
I studied Business, then worked in Marketing in the Fashion Industry and also was an Investment Analyst in a Venture Capital Fund before joining Le Wagon. I learned to code at Le Wagon in Spring 2018 as I was tired of seeing a lot of Startup business plans and products without understanding what was underneath them. I wanted to learn to code to have a better understanding of the product and go back to VC. But I realised that I loved coding too much and became a Web Developer. Now I work as a Software Engineer at Le Wagon!
My tip for women looking to start a career in the tech industry is: just do it! Do it for fun and also to learn new things!"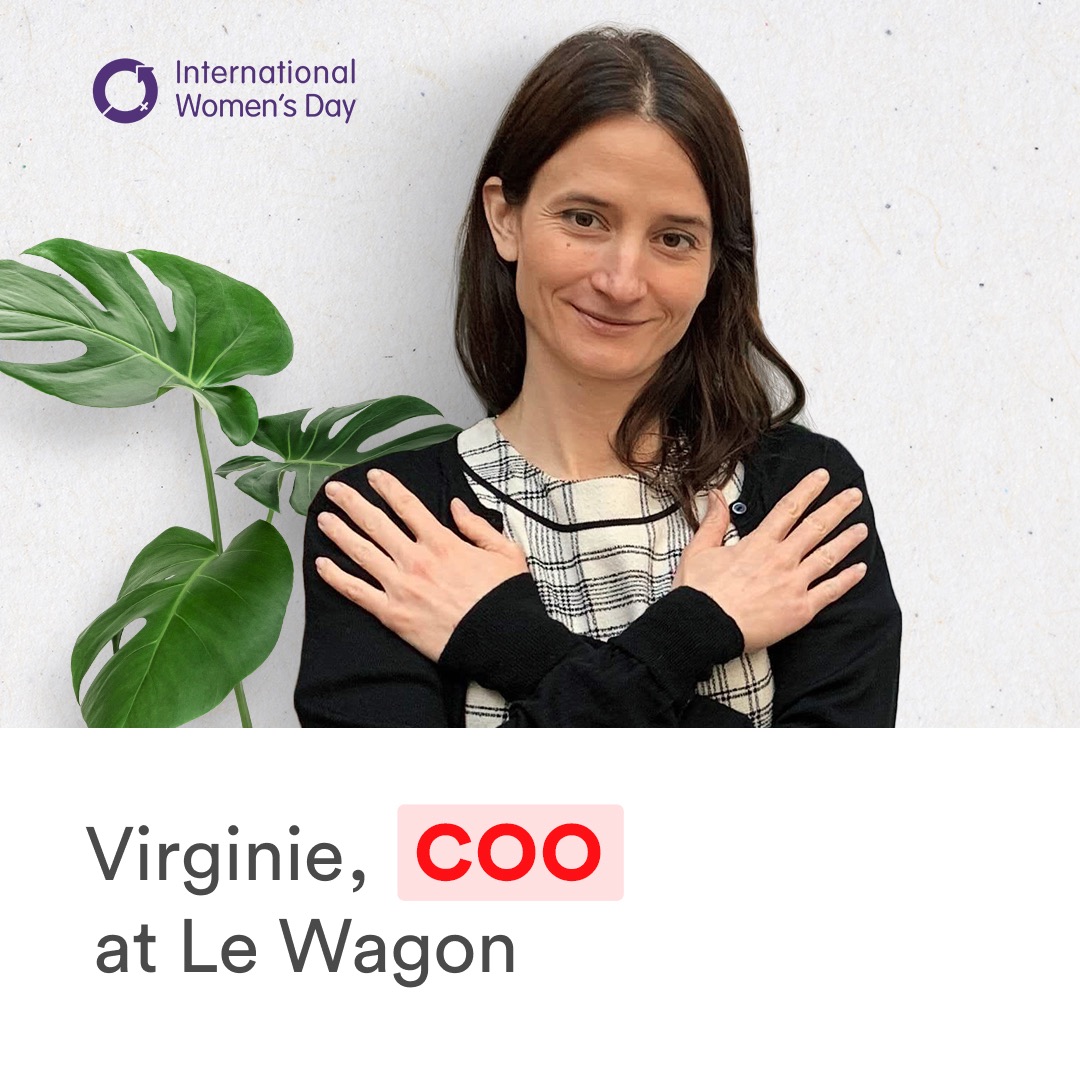 "My name is Virginie and I'm the COO at Le Wagon. I have a background in engineering, and I started my career in Marketing in P&G and then helped develop a high-end food start-up in France and abroad. After my MBA at INSEAD, I was looking for more impact in my day-to-day job so I switched to the education sector and joined the Swedish company Education First where I stayed for 5 years.
I joined Le Wagon in April 2021 and now I am in charge of our campuses located in 20 cities and across 10 countries. My role is mainly to build one big thriving company through coordinating the network of campuses and managing central and regional teams of experts (e.g. sales, marketing) to better support each campus/team so that we can accelerate our growth.


On the topic of women in tech, overall I feel it is a very broad and hot topic on which I did not spend enough time in 2021 as I was mainly focusing on the core operations. I intend to prioritize this topic more in 2022. Overall I don't feel it is a big concern at Le Wagon when I look at the proportion of students in our students/employees. I feel that Le Wagon has been focusing on this topic for a couple of years with many dedicated initiatives and it has paid off. Of course, I definitely think there is always room for improvement, especially when it comes to attracting more women to our data courses where we still observe a majority of men.


My tip for women looking to start a career in the tech industry is that there is always a first time, don't be scared to go in the tech industry as a young graduate or later in your career! I was personally a bit scared of not knowing enough about tech before joining le Le Wagon, the imposter syndrome is a real thing! But you learn on the job as you are immersed in a world of passionate and incredibly talented people."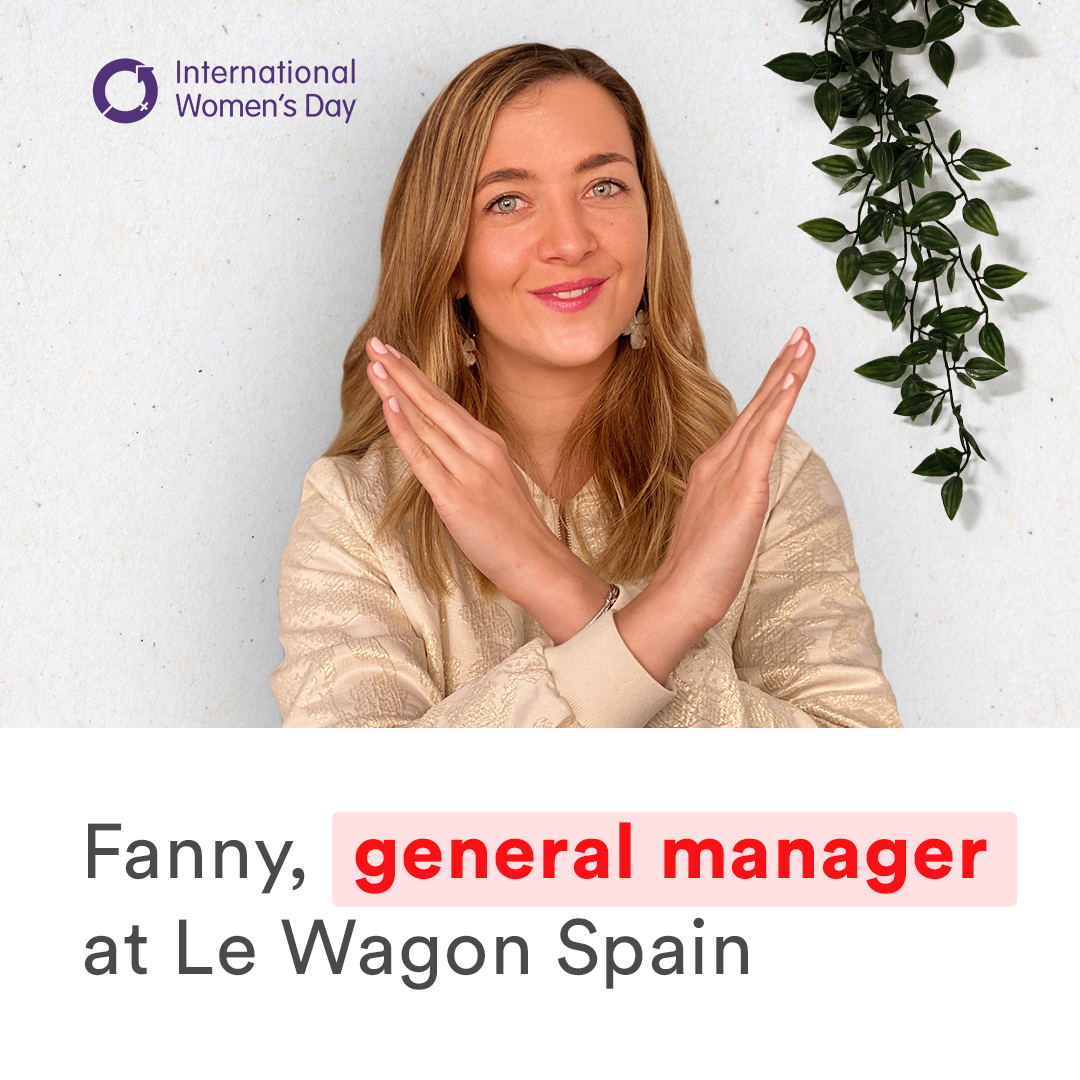 "I'm Fanny, and I'm the Country Manager of Spain. I myself did Le Wagon in 2019, and before that, I worked in Business Development for 7 years. I was selling tech products I didn't understand and was quite frustrated with my job, so I decided to leave it behind and learn to code.
After graduating from Le Wagon, I worked as a teaching assistant and then became City Manager in Madrid. I now manage operations in Spain where I help other people change their lives and learn to code. I am back on the business side of things, but with those technical skills that give me the confidence to approach any challenge in my professional life. I am really proud that Le Wagon Spain is a women-led business, something that doesn't happen that often in Spain.


I think gender shouldn't play any role in defining career choices and the accessibility of certain skills or opportunities. Diversity in any context is always an asset, and it is true for tech companies as well. We all have input to give, value to create. We need to foster that so that women feel welcomed into the tech industry.


My main tip for women looking to start a career in tech is to go for it and don't take no for an answer. You need to start somewhere and it can be quite daunting, but we are here to create a healthy nurturing learning environment. In our current batch in Madrid (and in my batch in 2019), we have a 60% women ratio, so we have come a long way and I think it is amazing to see."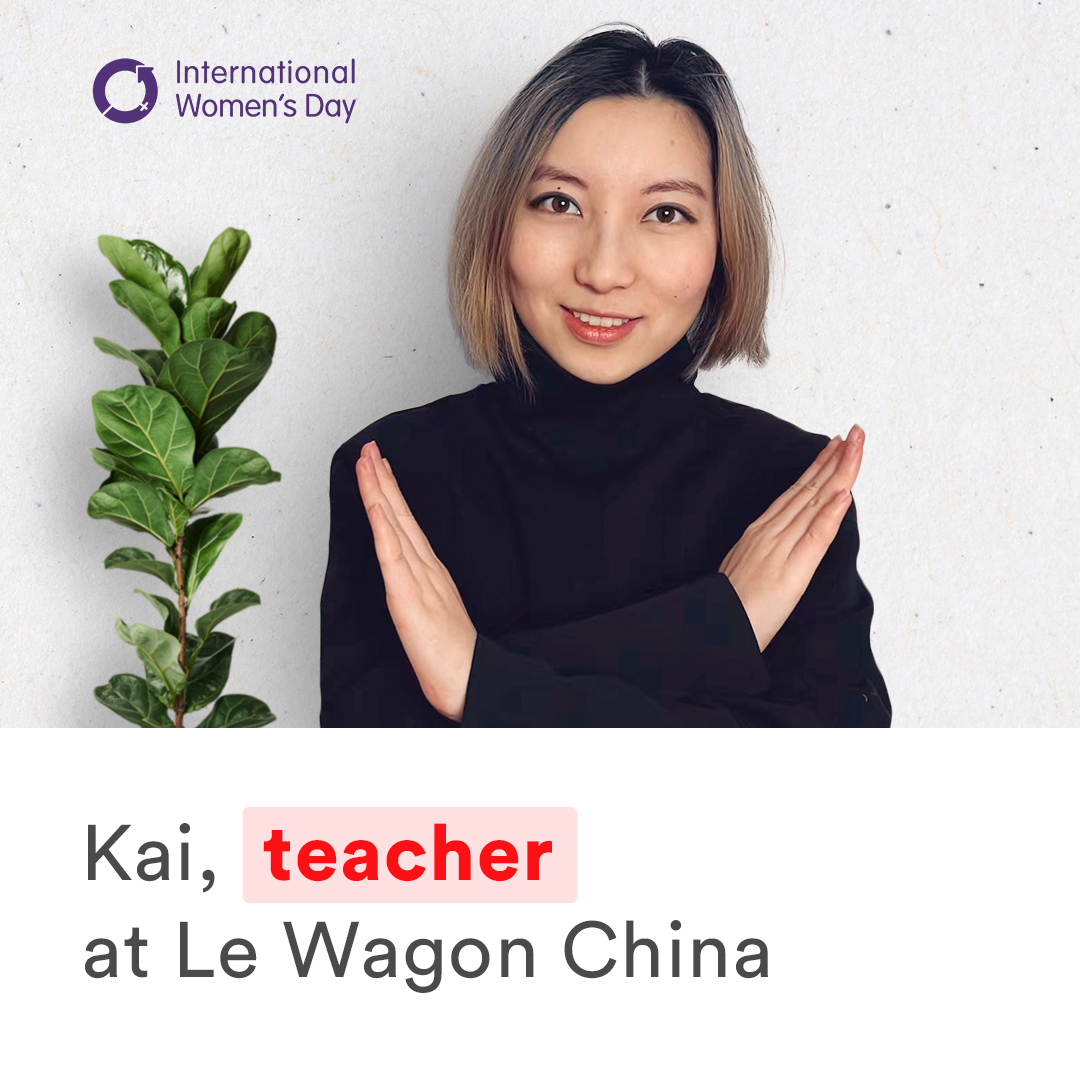 "I'm Kai, before Le Wagon I was working abroad in the food and fashion industries in terms of business development and product management. I started my online coding experience during the pandemic. My desire to get more proper guidance and expand my data skills never failed.
So I signed up to Le Wagon Shanghai to begin my data science journey last summer. I feel fortunate to become one of the teaching crew as alumni, I'm passionate about sharing my experience through engaging with new learners to accompany them on their brand new learning journey.
My tips and tricks for penetrating into the tech world are not only for women but for people of all ages and all backgrounds. The mindset to constantly try new things in life because the constant innovation of technologies is a process that will happen forever. Being one of those team players who are curious, hungry, audacious, humble, and supportive."