Hi Samira, thanks for your time. Can you introduce yourself?
My name is Samira, I am 28 years old and come from Switzerland. I lived in Lisbon, Sydney and I am now based in Zurich. I joined Le Wagon's Web Development bootcamp in Lisbon and was in batch #448.



What did you do before Le Wagon and what made you consider a coding bootcamp?
During the past few years, I have been working in the M&A and start-up investment environment in Switzerland. Right before applying for Le Wagon, I was working as a start-up investor for TX Group, a large Swiss Media company.


Seeing all those young companies with their drive and passion was a true inspiration, it motivated me to follow their path and made me want to work on my own projects as well. I had no prior technical know-how and I was struggling with the implementation of simple MVPs to test markets and products, so that's when I decided to take it a step further and learn to code.



Why did you choose Le Wagon in the first place?
I started off with a two-days workshop to have a taste of what it would be like to learn how to code, and I really liked it! After that, I was ready to look for the best coding bootcamp in Europe. I did some
online research
and found many
good reviews
about the Le Wagon experience, then I decided to apply for the
bootcamp in Lisbon
.
Can you tell us more about your experience at Le Wagon?
I had a great time in my nine weeks at
Le Wagon
. What makes it truly amazing is the
community
, people are always willing to help each other and support you from the very beginning. Even when you are really struggling with a problem, there is always someone there to help!

Plus, the environment is really chilled and coding jokes are great (you will understand most of them after week 2, I promise!). On a more serious note, I really enjoyed learning how to tackle a coding problem, as this is also helpful for the future if you wish to learn a new programming language.

The learning process was very practical and fun, with some theory and a lot of time dedicated to apply a concept to actual projects. Not to mention that both teachers and students were very encouraging, which gives you a really empowering feeling. You will never feel alone: there is always someone around to help with a coding problem, join for an ice-cream break or play some table tennis to clear your head!



Good to hear that you enjoyed your time at campus! And what was your biggest challenge during the bootcamp?
The cool thing about the bootcamp is that you actually learn how to build a product, which means that apart from coding you also have to venture into the field of design and user experience. I believe the toughest part for me was not to make the code work, but to actually make it understandable and good looking to users.

I would like to give a tip to the ones currently doing a bootcamp: try to solve problems on your own before asking the teachers. This will definitely help you a lot to succeed after the bootcamp when you will need to face challenges on your own.



What was your final project?
My final project was
Climately
, an app that helps you live sustainably in a fun way. I always wanted to live a more sustainable life, but struggled to keep up the good habits. With Climately, we gamified that process through sustainability challenges, which can be done together with friends!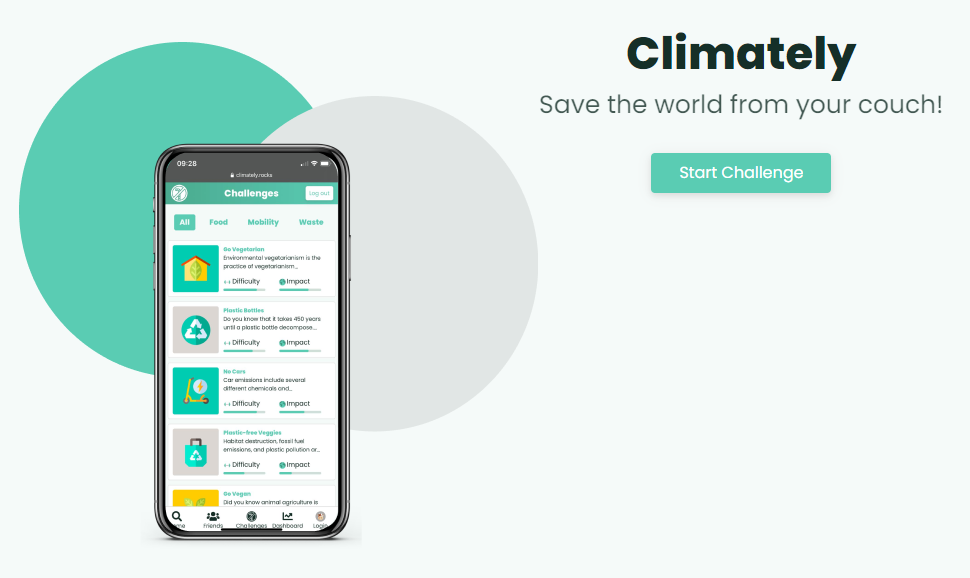 I know you developed some personal projects after the bootcamp. Can you tell us more about it?
Exactly, after the bootcamp I continued coding and started building my own projects. I am very interested in sustainability and equality, so I looked for issues in these environments and started working on solutions to solve them. Here are a few of them:

CO2-Calculator
. In Switzerland, we are voting for a new law that helps us achieve the Paris Climate Agreement. Opponents started spreading fake numbers on how expensive the new regulations would be for Swiss families. Unfortunately, there was no way as a family to calculate all these expenses and benefits. Together with the team from a political party that I am involved in, we came up with the idea of an
online CO2 calculator
and I immediately started working on it. The online calculator, based on Vue.js, calculates the benefits and costs of the new regulations from a family perspective and hopefully will help them in taking a conscious decision when voting.

Unbyas. A Chrome extension that detects gender biased language and helps users write more inclusive messages. Considering it was my first project, it was maybe a bit too ambitious and I had to put it aside for a while. Right now I am thinking about picking it up again.

Consumption Game
. My friends and I started a bet about who can consume less in a year. Instead of collecting everything we buy on an excel sheet, I thought it would be great to build a game that displays all goods we buy and shows who is winning. We are using it this year to track all our purchases!

That's truly inspiring! How do you think your experience at Le Wagon helped you?
The bootcamp empowered me to work on my own projects and interests. It gave me a real motivational boost and helped me not to be afraid of technology projects, but to actually go for them. After Le Wagon I also started using other frameworks and tools (Vue.js, Flutter Apps, Firebase), and thanks to this prior experience I knew where to start and how to learn a new programming language.



What advice do you have for those who want to start their own project after the bootcamp?
Don't be afraid and dare to try out new things. My first project was a chrome extension and I had no idea how to build it, but thanks to the know-how gained in the bootcamp I was able to learn it combining my experience with some tutorial videos. Most importantly, look for projects that you are really passionate about! Even if you might feel stuck sometimes, this will help you keep pushing.



Thank you so much for sharing your story. Any last recommendations?
I would definitely recommend Le Wagon to someone who is looking for a career change, but also to people who want to feel empowered and aspire to build their own projects afterwards. Coding is a truly valuable skill nowadays and is a great asset to have even if you don't aim at becoming a full-time programmer.

There are so many people out there that have amazing ideas, but don't know where to start. I want to encourage them to learn how to code and start pursuing projects they are passionate about.