Keep reading to discover 10 jobs that are available in the tech industry and an overview of what they entail. All of these are achievable post-bootcamp, which one is for you?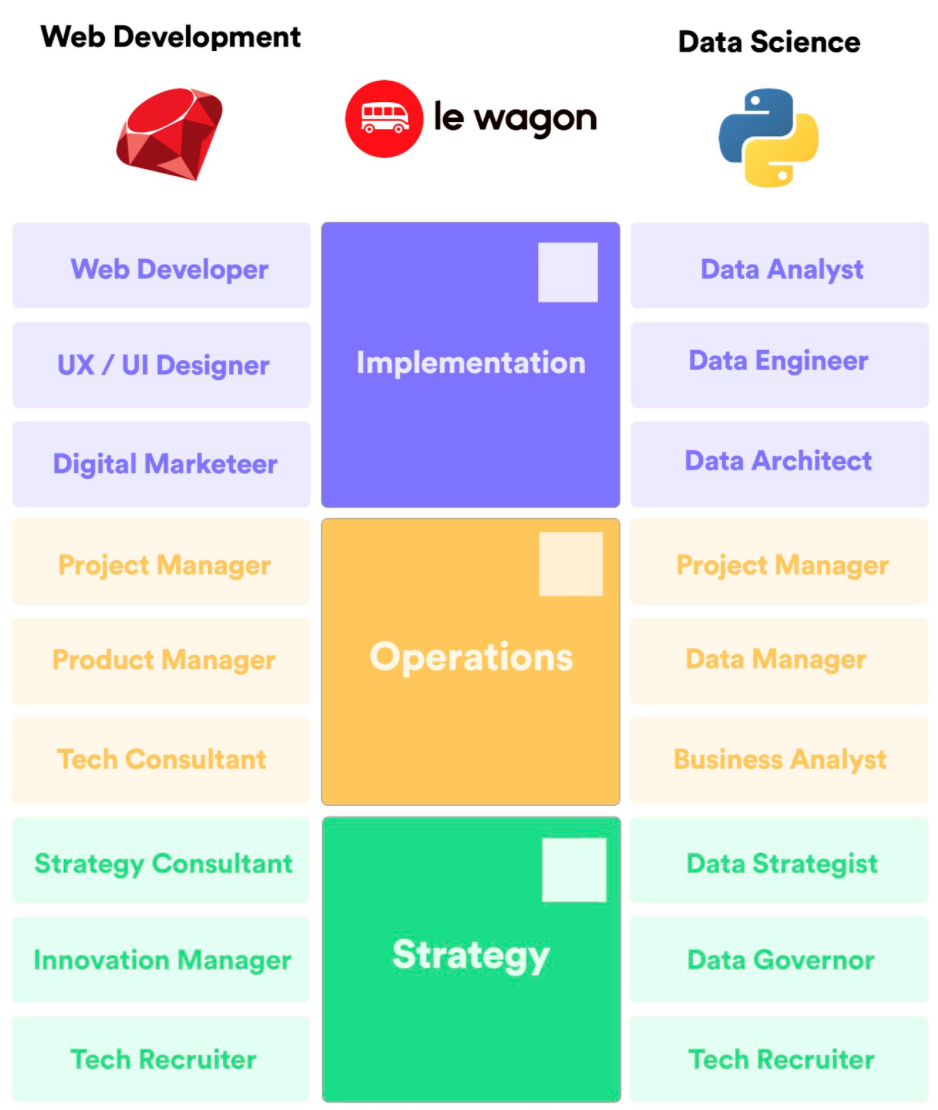 Students join Le Wagon for many reasons, whether that be gaining new tech skills, starting a company, or making a career move into a job in technology. If the aim is the latter, then there are many different career paths available for graduates of the Web Development and Data Science bootcamp.
This article gives an overview of 10 jobs that are available in the tech industry and a little overview of what they entail. For Web Development bootcamp graduates there are opportunities as Web Developers, Product Managers, Project Managers, UX/UI Designers and Business Analysts. For Data Science graduates there are opportunities as Data Scientists, Data Analysts, Machine Learning Engineers, Data Engineers and Data Strategists.



1. Web Developer
The most trodden of the career paths for our web developer graduates (as you can imagine). As a web developer, you will be creating applications and services which can be used on the internet. You'll be working closely with the product team to understand the needs of the user and you'll build new features from that feedback.

Xiaohu worked as a design engineer at multinationals like Alstom and GE. He wanted to make some changes in life and joined Le Wagon coding bootcamp. He realized that he really enjoys working in the tech world and now he is working as a web developer.
2. UX/UI Designer
As a UX/UI designer, you will be working directly with product managers and software engineers to design everything 'user interface'. You'll be building the interface and designing process flow to allow the user to comprehensively explore the site.

"I found my stride in my love of storytelling through another medium, UX. Proper user experience always starts with a great story, whether it's the story of how the idea happened to how a product will work. There are stories in the details of how people interact, who's interacting with it, and why they do it. What are their motivations? Why should they even care? By stripping this all down and looking at it as a film worth scrutiny, it can become easy to look at the big picture and make something exciting and fulfilling."
3. Product Manager
The main part of the product manager's job is to produce product roadmaps which then allow the tech team to prioritize which features to build or which to remove. They ensure that the product is built efficiently and quickly with the latest technologies and frameworks whilst responding to the feedback of the end-user.

4. Project Manager
You'll be tracking the project from beginning to end; building timelines and setting deadlines. You're fundamentally responsible for the completion of the project and delegating tasks to the rest of the team. The project manager will often be reporting to senior management on the progress and any potential issues.

5. Business Analyst
First of all, you'll understand the company inside and out! Enabling you to identify future needs and create solutions to meet those needs (usually in relation to software or information within a tech company). As a business analyst, you'll help plan for the future to achieve the company's business objectives and goals.

"I came to E-commerce in 2014 and after 2 years work for the web market, I started to be a business analyst in the IS project and also sent by my company to learn the full-stack developer of Le Wagon and get involved in a company digital transformation project."
6. Data Scientist
Companies are collecting more and more data every day. As a data scientist, you are in charge of taking that data and making it useful whether that be through finding useful patterns within the data or using the data to solve business problems.


7. Data Analyst
As a data analyst, you need to be able to meticulously comb through date finding insights and analysis. This is then conveyed clearly through verbal, written and visual communication. So both communication and attention to detail are key!

After 400 hours solid full-stack web developer bootcamp experience, Emily is capable of building a web app and mini program by using Ruby on rails, DataBase, SQL, OOP, JavaScript, HTML, CSS, Bootstrap, Github, she also kept pushing herself to dive deeper into the Data world after the bootcamp and successfully landed a job in Data role.
8. Machine Learning Engineer
As a machine learning engineer, you'll be building algorithms and creating programmers that allow computers to take actions without direction from a human. The machine can then respond to its surroundings for example without being directly controlled.


9. Data Engineer
A data engineer is someone who develops, constructs, tests and maintains architectures, like databases and large-scale processing systems. You will be transforming data into a format that can be easily analyzed and will often be working closely with data scientists enabling them to work effectively.


10. Data Strategist
You must understand both the business needs and the technical requirements as well as the tools which the data scientists are using. As a data strategist, you can communicate the goals of the senior management into data-driven initiatives.

Which one are you interested in? Learning to code is not just about skill upgrading, but also more options when choosing your career. The applications of Le Wagon coding bootcamps in 2021 are now open, we are looking forward to welcoming you!