Since then she's finished a degree in Software Engineering from Sichuan University, won hackathons, co-founded Ladies Who Tech Chengdu, and landed a job that combines all of her interests. She's currently the Turbo App Project Manager in the e-bikes division at world-famous Specialized Bicycles, based in Zurich, Switzerland.
Before joining Le Wagon, I was finishing my 2nd year of university.
I fell in love with tech when I first move to China.
First living in Shenzhen, I joined many tech events that I came across on Meetup like, Startup Weekend, Startup Grind and others. I had so many app ideas, but I didn't have the tech skills to build them. Through these events, I was inspired to make the change, and enrolled in university. To learn, to build my foundation in tech, so I could make my app ideas come true. At university you learn lots of different skills and knowledge.
However, if you want to get a job after university you need to have a tech portfolio.
To do this, Le Wagon Chengdu was the way to go. A 9 week program, where you build different projects every week, finishing the program with a ready product and a strong tech portofolio.
Since graduating from bootcamp, I was lucky enough to be mentored by Brian Unipheas, our JS instructor from the bootcamp. With the continued resources given to Le Wagon alumni network, I felt confident enough to start taking on freelance work. I also furthered my learning by working with a new programming language (Swift), where I designed and built iOS apps. I later became the frontend instructor for Le Wagon Chengdu, then went on to graduate from university with a Software Engineering degree with a nice tech portfolio.
Women Empowerment in Tech
In Chengdu, I was the community manager for Girl Gone International (GGI), an organisation for women with a love for travel to come together to share their experiences from all around the world. Through this community, I met many inspiring women, including Michelle Ibarra - GGI Regional Manager, Gabby Gabriel - Qmmunity Founder, and Charlene - Ladies Who Tech. Leaders of these thriving communities, supporting, creating and opening opportunities for women in Shanghai. I wanted to bring these opportunities for all women in Chengdu.
Through Ladies Who Tech, our aim is to inspire women into the possibilities available in STEM. With the help of Jill Tang, Charlene and Cindy Feng. Our kick off Ladies Who Tech event featured speakers of female leaders from ANZ Chengdu. There are more and more global communities for women, people of color (POC), LGBTQ+ and more in the tech world.
My advice is to get out to these events: Try, Learn, Build, Create, and most of all have fun!
Armanni is also a former triathlete and a fitness guru, now she works for a sporting company, combining her interest in fitness and tech.
Currently, I am Turbo App Project Manager for Specialized Bicycle Components, based in the Turbo e-bike world - Switzerland. When I was younger competing as a junior elite triathlete, I always wanted to race on a Specialized bike. So, now working for Specialized, one of the best bicycle companies in the world, not only makes a childhood dream come true, but I feel so fortunate to be mixing my love for sport and tech together.
Getting to work with mobile apps by coordinating their development, collaborating with global teams and joining lunch time team bike rides, makes me happy to go to work everyday.
Armanni with GGI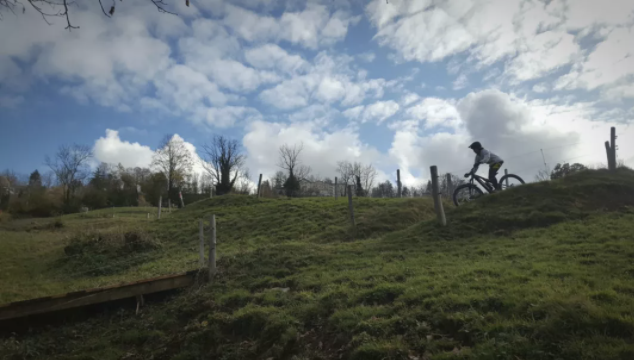 Advice for fresh graduates who just started their career in tech.
My advice is to build your tech portfolio, join tech events to meet people in the industry.
There's so much you can do in the tech industry, going to these events helps you try and learn about these different opportunities. To help you find out what you like and don't like. I used to feel like I didn't belong at these events, because at times I was one of a handful of women at an event of 100+, but I pushed myself to go because of how much knowledge you can gain from these events.
As I mentioned before, there are more and more global communities for women, POC, LGBTQ+ and more in the tech world. With communities like Le Wagon, offering scholarships, course discounts but also giving everyone the opportunity to join free events located anywhere in the world. To test the waters, learn new skills, whether it's in design/frontend/backend and more. Try, Learn, Build, Create, and most of all have fun!
Armanni Antoine-Chagar
Batch #88 (Jul 2017 - Chengdu 🇨🇳)


Le Wagon wants to inspire and encourage more women to discover their potential in STEM. We would like to offer financial support for ladies who are eager to learn tech skills and we will give a scholarship (15% discount) of our Immersive Full-Stack Program and Data Science Program tuition for each of the final successful candidates.
Learn to code, become the women in tech!