Can you tell us about your background – i.e. previous qualifications and any jobs you have had?
I went to business school and got a master in Business management and strategy consulting, so I was far from a technical or computer science field.


My first job was for a French consulting firm, and I was managing alone the UK branch. I was working in a co-working and I guess it got me used to work quite independently, having my own schedule and also I met there people from really different backgrounds - and lots of developers!


I changed a year later to work in a more digital environment. I was a customer success manager for a point-of-sales software company so I was onboarding and training new customers to work on our platform. I enjoyed working more **in a digital environment but often I was actually only the buffer between (not-always-happy) customers and our developers. I got to suggest new ideas for the platform but I was never the one making the decision or actually building it and I thought this was really exciting.


My job then evolved into a more customer service position which I didn't really enjoy either so I was looking for a change.


Why did you choose to attend Le Wagon's bootcamp in particular?
In the evenings and often before going to work in the morning, I started online lessons to learn HTML and CSS on my own and I absolutely loved it! But even though I was proud of the first pages I could build, it looked like the very first internet pages and I still had no idea how to build a proper app with a database and to publish it online.


I contacted a few friends who did the bootcamp and I called then more people, and everyone was praising Le Wagon and said they would do it twice if they could.


Each call was motivating me even more so
I decided to take the plunge and I quit my job to do the bootcamp a month later.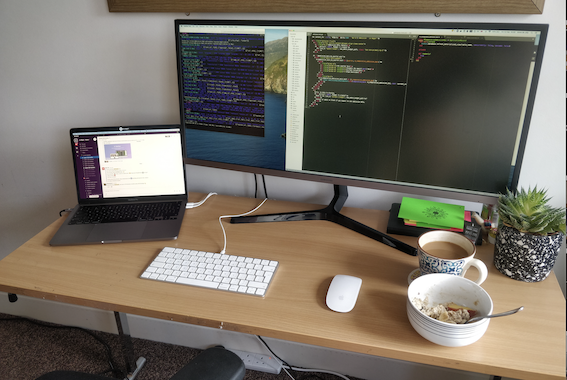 How was your experience as a Le Wagon student?
I absolutely loved doing the bootcamp. First of all, the teaching methods are great and work extremely well. You have a lecture in the morning, you work on challenges all day with your buddy and teacher assistants to support you, but you are free to take breaks, go walk in the park if you want some air and go to the yoga or fitness classes they offer twice a week, to relax and get back to your code with a fresh mind. Then after the challenges, at 5pm, you come back to the classroom for livecode where we solve a challenge altogether. You start with the basics of Ruby, but it gets more advanced every day and you start putting together all the languages and framework you have been learning to then build two Ruby on Rails app with your team during the last three weeks of the bootcamp.


All the teachers and teacher assistants have done the bootcamp already so they know where you might struggle, or which concepts are more complicated and being helped and supported by alumni is very inspiring.


On top of that, I met some incredible people from all different backgrounds, which was awesome and so interesting and I made really great friends there that also now share my passion.



What inspired you to pursue a career as a teacher?
I started right after my bootcamp working as a teacher assistant, helping students on their challenges during the day. The best way to know you have understood something is to be able to explain it to someone else so this surely deepened my skills and strengthened my knowledge.


In development you learn new concepts every day, it is like climbing a mountain and getting to know it better and better and then, when you are at the top, you can see all these new things and landscapes around you that you don't know yet.


Becoming a teacher was an amazing opportunity to continue coding while sharing this passion with others and helping them succeed in their career change like I did a year ago.What were some of the key things you learned from the course that have helped you as a teacher?
During the bootcamp we are taught new languages and how to code, but also how to read documentation, error messages, how to ask and find answers, on the internet or to other people. We are also working with a different buddy everyday, and within a team during the last three weeks which teach you how to discuss code with others, how to read someone else's code and eventually how to explain concepts better or see multiple solutions from different angles to a problem.


On top of that the community is extremely welcoming and helpful. From day 1 you are part to Le Wagon slack with more than 10 000 alumni. You see all these posts during the bootcamp and it gets more interesting when you actually finish the bootcamp because all your questions can find an answer there. Coding related question, career-wise, side-projects, resources or conferences and events, job posts or freelance projects as well...


This spirit also shown in our Le Wagon team where everyone is
always supportive and helpful
, even - or especially - in remote conditions.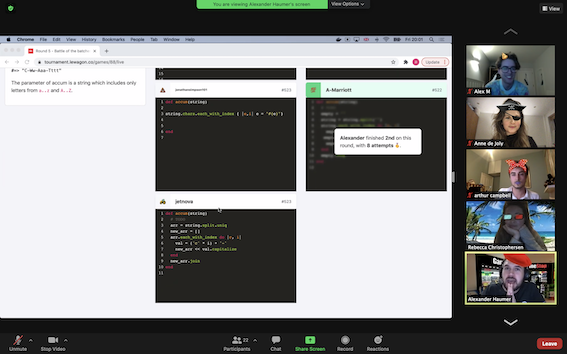 As a woman in tech which are some challenges that you face?
Women and minorities are definitely under-represented in the tech industry. In France there are few women in engineering schools and way more in business schools! Which is why we need to push women to consider more these positions and believe that they can do it so they can change their career as well.


Before doing the bootcamp, I thought a career change was already too late for me. I didn't study computer science, never really coded anything so why could I go to such a different and more technical field than the one I was working in?


So the first challenge is to
believe that you can successfully pursue a new career and learn a complete new field
even though you had not studied it or you think you don't tick all the requirements. It's the same mental block that make women hesitate more than men when applying for positions 👉
women don't apply for jobs unless they're 100% qualified
.
For that, I'm glad to be a teacher at LW as well as participating in webinars so that we can give more people and woman interest in coding. I was also the first woman in the London tech team and gladly Sarah O'Grady has now joined the team too 🤩
I have also participated to women's data days on some Saturdays where women are invited to two webinars given in a very nice and supportive atmosphere to show them that web development and data science are not only a men industry and that they are both actually super fun and creative!
What do you have to say to women who want to pursue male dominated professions?
Pursuing your dreams is the most important thing. If you are interested into tech and coding then you should speak to women who went through the same path. I was convinced that I missed my chance already because I didn't study computer science at school, but then I started contacting alumni who had been in the same situation and who succeeded in their career change. A few women had studied in the same school and described to me how they managed to change their career and successfully launch their own freelance activity after less than a year, which convinced me to take the plunge and step into the industry myself.


Connecting with other women is greatly inspiring and empowering and it can help build up your confidence. Finding a female mentor or even other women working in the tech industry, who can speak to and share advice with is also really important. You will often get struck by the impostor syndrome and will realise that everybody has it and continues having it, and hearing the experiences of others can be actually relieving.


Women are still under-represented so it's important to continue giving and participating to the field as well, by volunteering, mentoring or helping others. Be proud and share your knowledge with other women to continue inspiring more and more and prove our importance in the field.