At Le Wagon, diversity is one of our top priorities. We nurture a highly diverse community with campuses all over the world and students from various backgrounds and ages coming to learn to code. As part of this cultural diversity, we feel very strongly about promoting gender parity at every available opportunity.
We want to empower women by giving them the knowledge and skills needed to thrive in tech and also provide the support they need for getting there.
We are very aware that women as a demographic is still very underrepresented in the tech industry. At Le Wagon, we believe that a more diverse environment is a more creative and effective one. A wide range of points of views and personal experiences represented on your teams puts you in a better position to find more and better solutions. We want to empower women by giving them the knowledge and skills needed to thrive in tech and also provide the support they need for getting there. Female underrepresentation in this industry is a very complex topic, which requires more than one solution.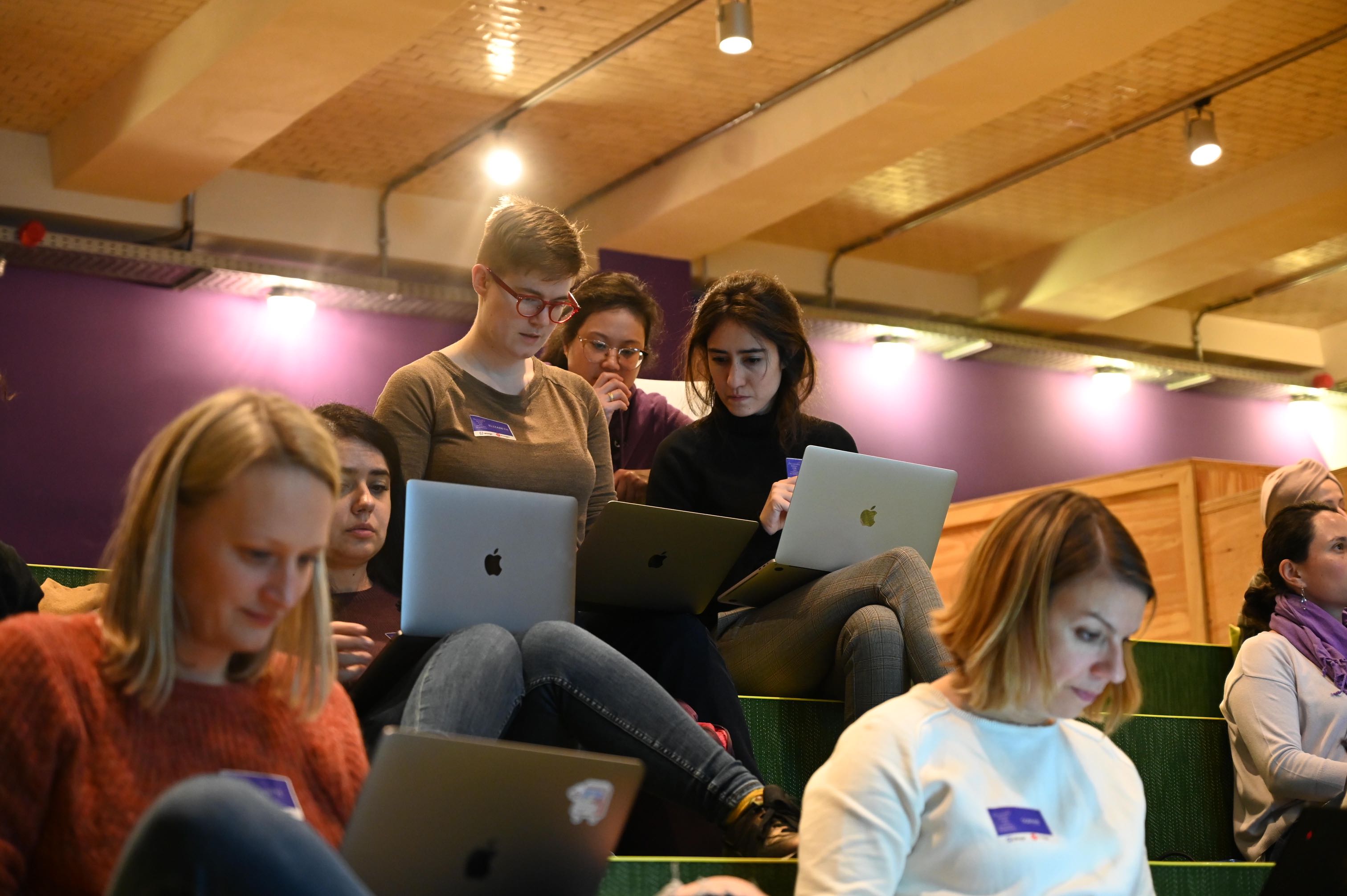 What we intend to do about it is to give women the chance to get a first taste into coding by joining our
free women's coding days
. We also started working with tech startups in Berlin and give free women coding workshops to their female employees.

Recently we visited Wooga, a mobile game developer company in Berlin. Wooga develops free-to-play mobile and social games for mobile devices, such as smartphones and tablets and social networks like Facebook. We had the opportunity to teach 30 of their non-tech employees the basics of coding and creating their first landing page using HTML and CSS.


Read the thoughts of five Wooga employees who attended the workshop!
At a young age, I remember exploring new and fascinating worlds through arcade video games. I always wondered how the games worked and what it would take to make one. While there was little-to-no tech education where I grew up in Kenya, a part of me always knew that I would make my way into the field one day. And eventually, I would discover what was beneath the hood. I signed up for the workshop to kickstart this learning process.
Delving into the unfamiliar can be exciting, but also scary. Sharing this learning experience with like-minded women was empowering, and coding was surprisingly fun. Female role models working in tech are key to inspiring girls and young women to get into the industry. Seeing more women in tech, and particularly in leadership positions, persuaded me that women can run things in a male-dominated field.
I signed up for this workshop because it gives an opportunity to learn coding from the very beginning and get a proper direction on what I should concentrate on in the future. I am happy that Wooga supports such initiatives, because the most challenging step is usually the first one. I was impressed with how the workshop was organized, as within the 2-hour session we managed to build a simple web page. It was easy and really fun to follow the steps and see the final result.
I realize that having some knowledge of coding is beneficial in marketing research and data analysis. Understanding the coding specifics will help me to set priorities in research as well as work with data in a more official way. For example, I can communicate more effectively with developers and introduce my ideas clearly.
Gaining knowledge and constant desire to stay relevant is something that motivated me to attend. I was pleasantly surprised by the level of preparation from the lecturers, their dedication to supporting us, witty humor they incorporated in the lecture to make it more smooth and pleasant. They weren't condescending and they made sure they created an environment full of acceptance where we can admit if we don't know or understand something. I benefited greatly from the learning session and I am definitely interested to learn more.
Web development is such an important topic and the basics of it should be in the corpus of knowledge of the majority of people (or dare I say, all of them) in the IT industry. Using a pleasant, warm and familiar atmosphere to make the basic concepts of HTML and CSS closer to us was much appreciated.
I didn't know what to expect from the workshop and what we could possibly learn in 2 hours. But even though we had to rush through the content and I couldn't follow each part, I found out that web development is something that actually seems doable to learn and that HTML is not scary but understandable if you know how to break it down into little blocks of text. The workshop was a real eye-opener for me. It definitely piqued my curiosity to learn more about coding and explore this new world. Kudos to Meredith and the team for introducing us to coding in a very clear and fun way!
Diversity is important everywhere, not just in tech. ;-) There are plenty of studies specifically about gender diversity showing that diverse teams are more creative, work better together and deliver better products, especially when they reflect the diversity of their customers. It's great that Wooga is doing a lot to actively support gender diversity initiatives like hosting this amazing workshop.
Annelie Biernat, Lead Product Manager & host of the workshop
We are making great progress in terms of diversification of our staff and are already above industry standard when it comes to all employees at Wooga. Unfortunately it is harder to reach a more equal gender split in technical positions compared to other disciplines.
A couple of weeks ago I unexpectedly met a few female coding students from Le Wagon and heard about their stories of how they decided to just learn coding. This inspired me to initiate this workshop for my female colleagues from within Wooga, instead of only searching for female engineers outside our company, to get more of us interested in the technical areas of our jobs.