what is a Hackathon?
"A hackathon, also known as a hack day, hackfest or codefest) is a design sprint-like event in which computer programmers and others involved in software development, including graphic designers, interface designers, project managers, and others, often including domain experts, collaborate intensively on software projects." (
Wikipedia
)
For this specific hackathon, we spent a little less than 24 hours in a large tent, with approximately 572 other attendees (the number is maybe a little exaggerated). Pizzas were provided at midnight and we had chocolate cookies for breakfast. There were about 30 teams, including 4 for Le Wagon Montréal, and just as many challenges to tackle.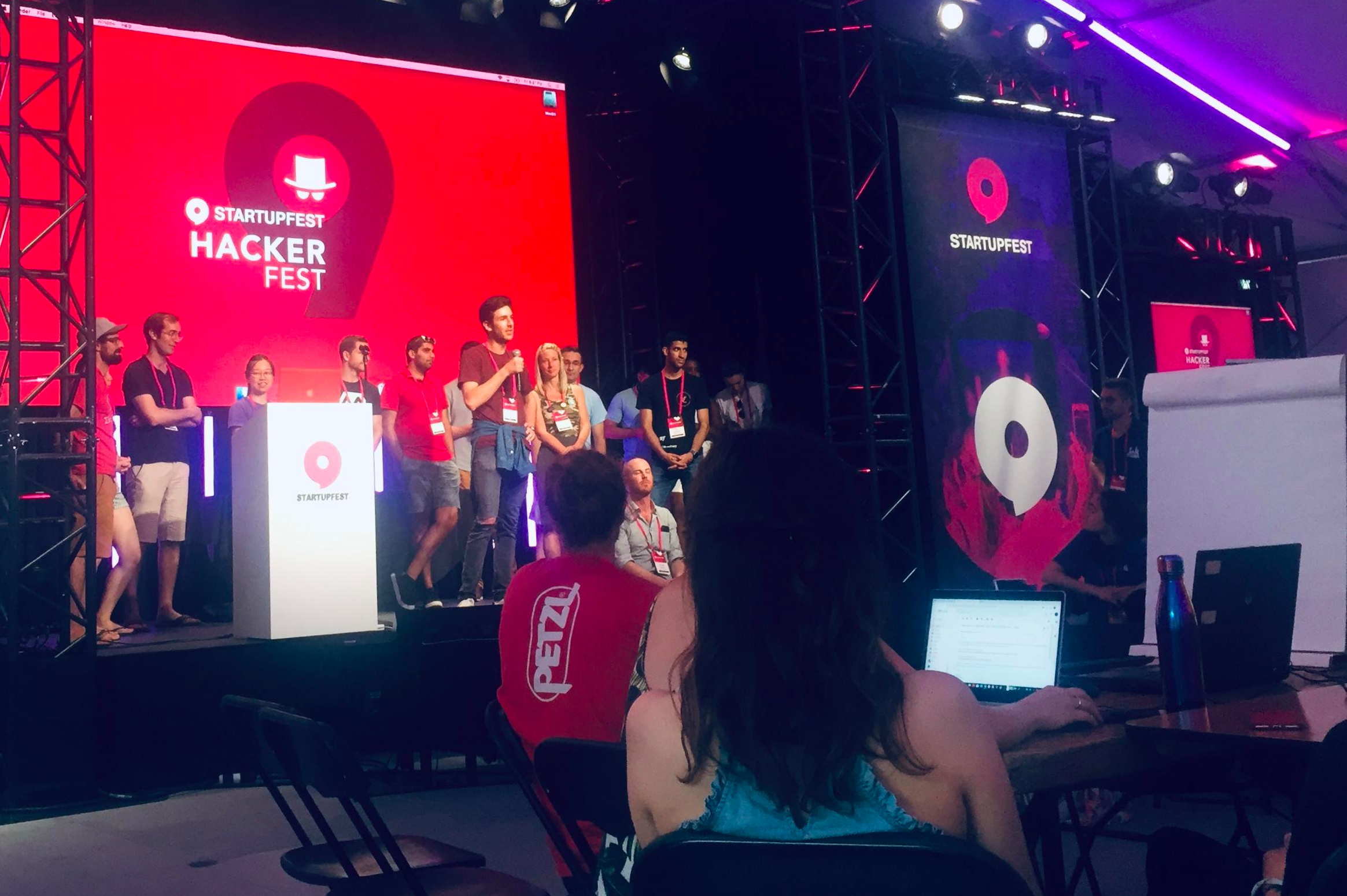 Following the Hackerfest format, each team can suggest a project, whether for something brand-newor new features to be implemented. No topic was imposed, it was up to us to abide by the limits we have set for ourselves.


why a hackathon?
It was my very first hackathon. Two Le Wagon Montreal graduates convinced me to take part in this, after a (fantastic) batch as a teacher and a relatively joyful demo day party. I wanted to take the opportunity to improve my skills on React - and to spend a weekend full of laughter, beers, pedal boating, all of this combined with Sublime Text and bugs to untangle. I was always excellent with tight deadlines, and after 5 years of architecture studies I have a very good tolerance to working all-nighters - even a certain appetence for this schedule. Add to that the fact that I am a freelancer and work alone most of the time, and, it must say, I missed the atmosphere of Le Wagon's project weeks. There were many reasons to say yes to this two-day adventure.
how it works
We arrive under a blazing sun (Montreal, -40°C in winter, +40°C in summer), and settle in very slowly before the official launch. As soon as we get to our little desks, the questions start:

"Where are we going to buy beer? ", " What time do the pizzas get here ", " Do you like Futura as the logo font ?", and other existential questions that were quickly answered.

At 6:00 p.m. we are officially on the project. Benjamin, Philippe, Simon and I want to work on an application that enables merchants to give away their unsold stock at the end of the day rather than throw it away. We had quickly talked about the idea beforehand, made a few mockups (Figma is the second love of my life, the first being Futura) but nothing more. The goal is to have a functional application in 24 hours, so we try to make the most of the functionalities, to keep only the heart: create new "unsold shopping baskets" that are displayed like a Tinder carousel for users, who can then go on site to take advantage of the said baskets. For the rest, nothing is done, no line of code has yet been written.
On the technical side, why change a winning team? As 4 former members of Le Wagon we opted for a back-end in Ruby on Rails upon which we code the front-end in React.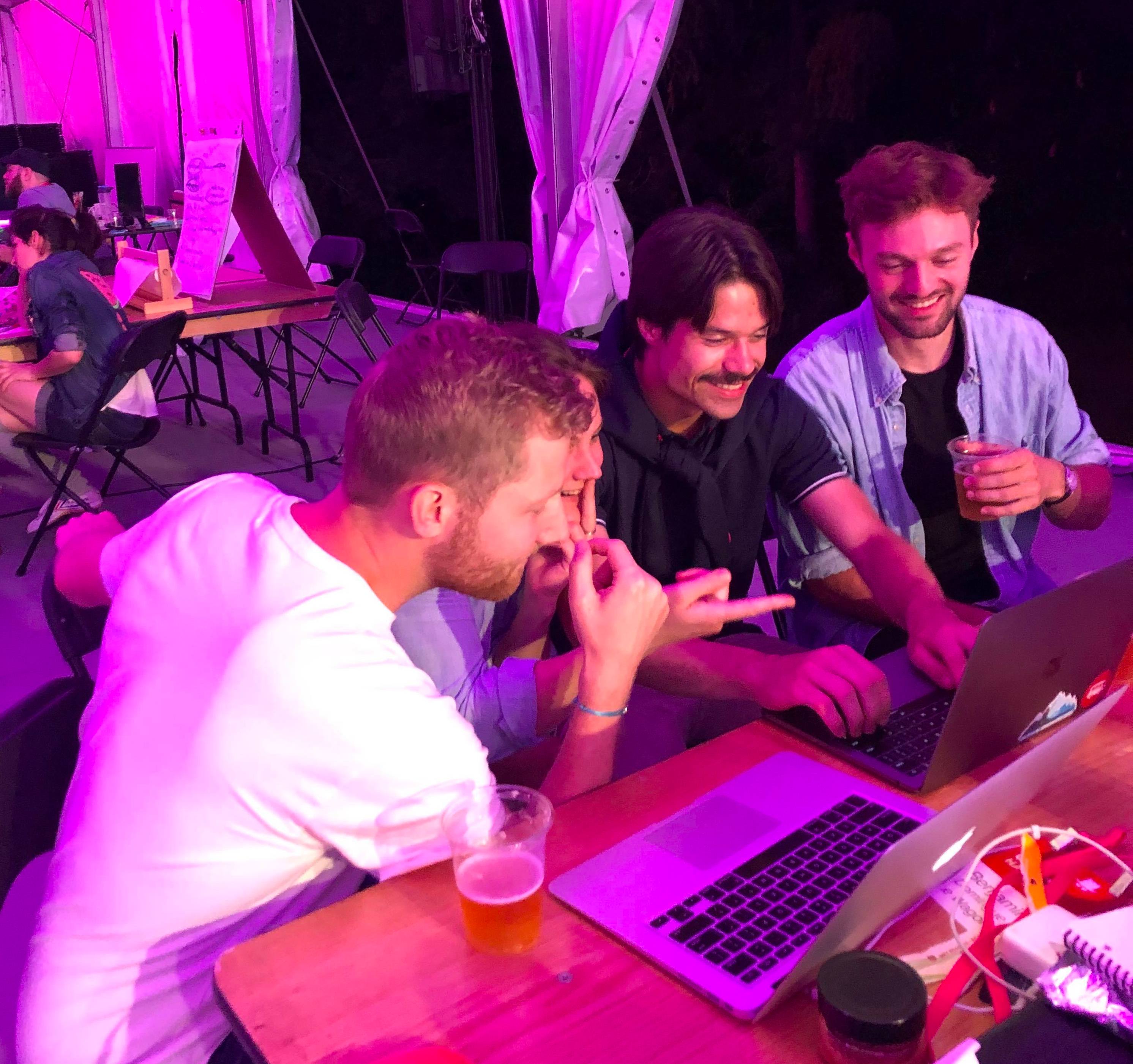 Obviously, even with a very limited core application, there are still bugs - let's stay realistic - but armed with an iron will, we manage to fix them, one-by-one between jokes, and as we better organize, the team's work starts being very effective.

All those hours between pizza and pizza weren't just about work, to be honest, but overall, our team was studious - between two beers and two photo shooting attempts. Around 1:30am, we had a pedal boat race - which we won, even if we didn't exactly follow the games' rules - this provided us with some excitement, but the slump in the big Fatboys finally sounded the alarm: we better go home and sleep in our beds for a few hours, and return the next morning.

Personally-speaking, the next day, after a spoonful of peanut butter for energy, I was in great shape. After 50 minutes of cycling uphill under a full sun to get to Parc Jean-Drapeau, I was a little less energetic, but that's another story.


We get back to work, fixing bugs on bugs, and sometimes not at all, so much so that we end up having to fall back on an emergency solution to get our product up and running before the pitch session. No problems, only solutions, and Simon pitches the product brilliantly within the time limit: everything works, everything is beautiful, the challenge was met.


benefits
The big advantage of a hackathon is that, due to having limited time, priorities are quickly and easily decided. There is no time to waste two hours deciding whether the border-radius should be 4px or not (border-radius, never), no time to waste two hours deciding whether to prefer upper or lower case (lower case, all the time).


In my opinion, working in small groups on a particular feature is the best way to move forward while helping each other and learning from one another. In one weekend, we have relived the last two weeks of the bootcamp: coding, helping each other, and having a good time.