Our Career services will be here for you
Benefit from 1:1 coaching
Meet our Career team for a 1:1 to help guide you in your career path and review your application strategy and documents.
Meet our hiring network
We have more than 985 hiring partners. We organize regular recruiting events where you can speak directly to company representatives and share regular job offers between alumni.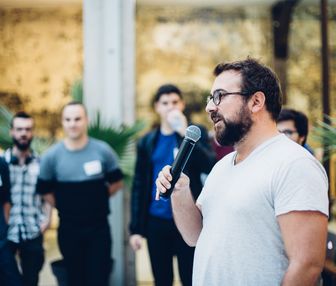 Get job offers by our Alumni
You'll be part of a global community with 19,263 Alumni worldwide with lifetime access to Le Wagon's alumni slack channel.
Get access to Le Wagon content
You will have access to Le Wagon's career and course resources for life, including a selection of top PERKS with 30+ companies including AWS, Angolia, Go Rails.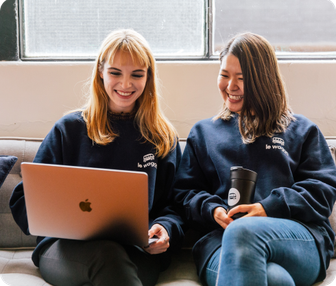 Jobs data speaks louder than words
Know more about the average employment rate after the bootcamp
Discover which companies hire our alumni
Read inspiring success stories
Download our 2022 student job report
A full week dedicated to your job hunting success
Dive into Le Wagon's Career Week: a condensed week to get you prepared for your future career.
Boost your professional profile
Become highly hireable by boosting your CV, cover letter and your LinkedIn profile. You will also get tips of making the most of your Github profile.
Hear inspiring talks from tech experts
Through live talks, you will learn how to land a job in data, web development or product. You will also benefit from advice from freelancers and entrepreneurs.
Get recruited by our hiring partners
You will meet face-to-face with companies actively recruiting junior tech profiles and will also be able to ask all your recruitment questions to experts.
Learn from our alumni
Attend Q&A session with alumni who successfully transitioned into tech and get advice on how to land your first job after the bootcamp.
Meet our career services team
Our careers team is dedicated to helping our students achieve their professional goals, launch their careers, and land their dream job in tech.

Simon Courjault
Careers Advisor

Abigail Watt
Careers Advisor

Marig Sarrazin
VP Global Career
Daniela Pulido-Lopera
Careers Lead
Nandhini Mohan
Careers Advisor
Sofia Bueno-Quintana
Careers Advisor

Fareen Shaikh
Careers Advisor

Marta Bas
Careers Advisor

Cydney Chibnall
Careers Advisor
Attend dedicated Le Wagon's hiring events
Through job fairs, networking and get me hired events and talks, our careers team will introduce you to the right hiring partner - depending on your goal, your project, and your dream job.
They recruit Le Wagon alumni
Most of our developers and product managers come from Le Wagon! Le Wagon has become a key strategic partner helping Skello to hire great tech talent.

Quitterie Mathelin-Moreaux

CEO - Skello

We've hired more than 20 Le Wagon graduates in various engineering, product and data roles. We really value their strong tech foundations and ability to learn fast.

Simon Baldeyrou

CEO - Getaround Europe

We have recruited some amazing Le Wagon alumni in various tech roles: data, product, ops and engineering. It's a great bootcamp for preparing well-rounded top tech talent.

Jean-Charles Samuelian-Werve

Co-founder & CEO - Alan

As a fast paced Scale-up based in EPFL innovation park, we often look for new talents and love hiring Alumni from Le Wagon. We like their mindset and adaptability. They blend very well with our corporate culture. Best proof of that is that today 5 Alumni from Lausanne are working in our team.

Nathan Tempels

Scrum Master - Tayo

At Doctolib we always strive for the best talents to make access to healthcare fast and equal for everyone. Through Le Wagon, we've found these great talents as they learn exactly the tech skills that help us in our mission.

Angela Diapari

Lead Product Recruiter - Doctolib

Le Wagon's training allows to bring the tech and the business part together, people from Le Wagon are open-minded and flexible, it is precisely what we need in a hyper-growing environment as a scale-up company!

Elisa Lorenter

Head of Talent Acquisition - Malt

Le Wagon Alumni bring experience in other areas that, together with their new learnings from the bootcamp and motivation, turn them into fundamental pieces of solid and diversified tech teams.

Ricardo Gaspar

Senior Manager - PwC

We have recruited 4 Le Wagon Alumni this year in our team, who have fitted very quickly into Foxintelligence culture. They have proved to be adaptable, quick learners, and great team collaborators.

Lucile Ritchie

Strategy & Operations Manager - Foxintelligence

Both Miguel and Manuel have been great with the challenge of building Landing.Jobs' platform. We really enjoy both their motivation for constant improvement and their openness to work with our Experience Team.

Pedro Oliveira

COO - Landing.Jobs
Get hired at top tech companies
Le Wagon helps you land the job of your dream.Our career services guide you at the end of your bootcamp.
3 months
on average to find a job
Want to find out more about our career services?
Our career services team is available for you to give more information on how you can land your dream job in tech post-bootcamp.
Apply