"Change your life, learn to code" is a cool marketing slogan but what happens really for students after Le Wagon?

They were designers, communication managers, mobility engineers, students, looking for a job, etc… And today, what are Le Wagon's alumni up to just a few months after their training ⁉️

Discover the career path of the first 10 students in Lausanne



3 Developers 👨‍💻👩🏻‍💻
Giovanni: Fullstack Developer in a tech company in Geneva. After Le Wagon, Giovanni kept on learning new technologies like React, a coding language he now uses everyday in his job.
Iris: Fullstack developer for TieTalent, a startup hosted in the same incubator as Le Wagon. Iris took advantage of the synergies between the companies sharing the MassChallenge ecosystem in Renens.
Matthieu: Software developer at Techwan. During his free time, Matthieu keeps developing applications around his hobbies (Fab Lab, Hockey, etc.)
Tips: 💡After Le Wagon, we always recommend our students who consider a career in web dev to look for a company in which they can continue practicing and learning from a caring CTO.
"With Le Wagon I went from 0 to 1 in tech. It is now up to me to keep on learning and if I can get paid to do that, that's perfect!" Giovanni
3 Tech Enthusiasts 🤓
Carole: Digital Transformation Consultant for a big firm in Geneva. Carole uses her new Tech skills on a daily basis to help her customers switch to digital.
Albert: Data Analytics Executive for a worldwide company in Lausanne. Albert combines his experience in finance with his new expertise 📈
Loïc: Biology & IT student in Neuchâtel. Loïc is already a good step ahead of his comrades on the computer science aspect. Lately, he shared his experience at Le Wagon Lausanne.
Tips: 💡Le Wagon does not only lead to working as a web developer. More and more jobs are getting digitalized and companies need people who understand both Business and Technology. New jobs are created: Growth Hacker, Digital Marketer, Product Owner, Digital Consultant, Digital Project Manager, ... and all the ones not created yet.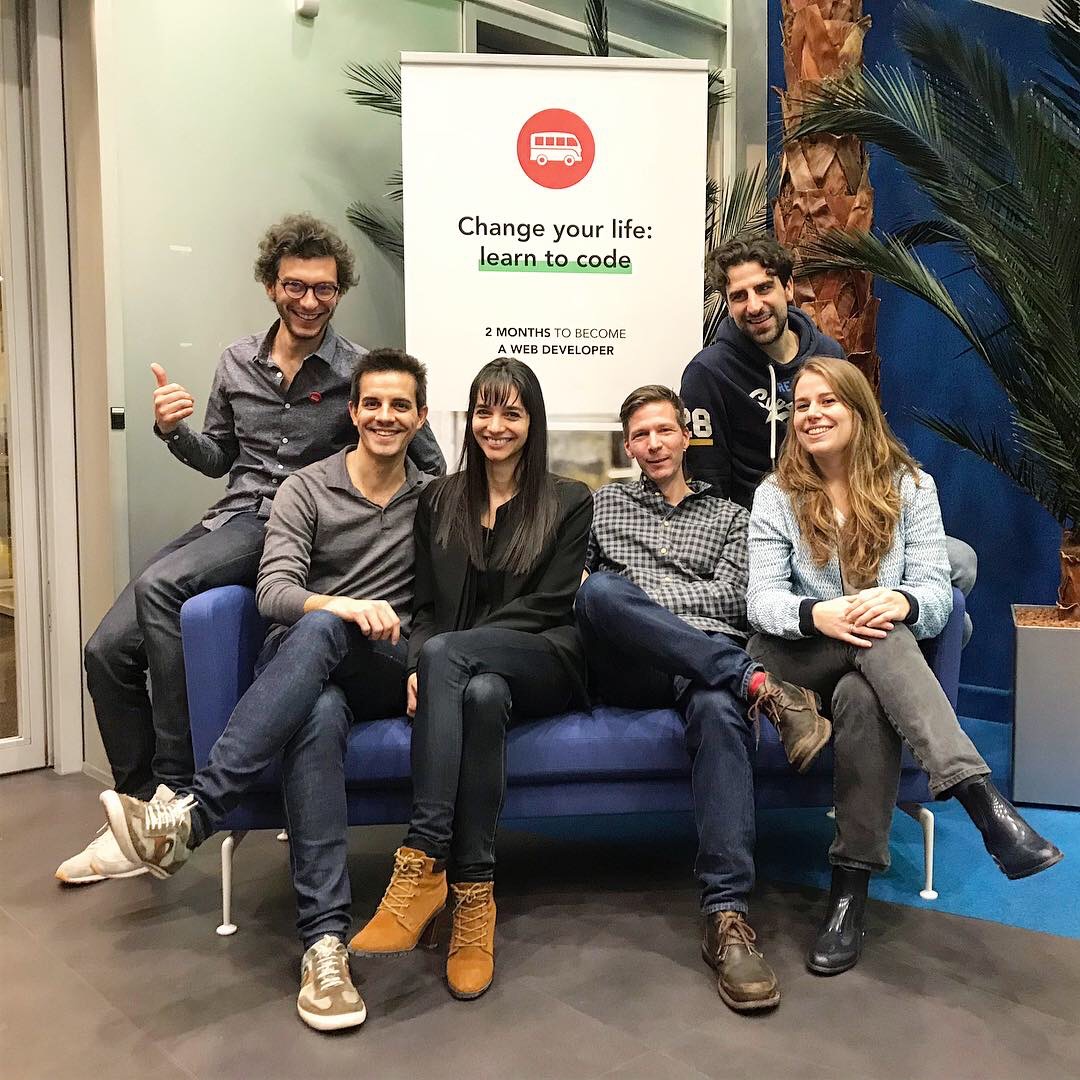 2 Enhanced Profiles 💪
Gieri continues working as a Freelance Graphic Designer 👨🏻‍🎨. Based in Nyon, he can now offer a wider range of services to his clients.
Nicolas has a great experience as a Graphic Designer and is still eager to learn as a junior web developer.
Tips: 💡At Le Wagon we are convinced that we have to train ourself all lifelong to be able to bring more value to our work and to embrace the great changes that our society is going through.



2 Entrepreneurs 🚀
Aloïs is building a Fitness Pass app that will allow you to book activities from several fitness rooms. She is also leveraging the Alumni network as she is looking for a developer position after moving to France 🗼
Justine is building her entrepreneurial project with the motto "Zero Waste". She is also TAing (Teacher Assistant) for the new batches.
Tips: 💡Entrepreneurship is in Le Wagon's DNA from the start. Students learn to code build their MVP in only 2 weeks and not only to master languages ​​(HTML, CSS, JavaScript, Ruby, SQL). When they leave the Bootcamp, they can rely on the methods and the best practices of collaborative work they learnt at Le Wagon.



Ready to change your life too?
Our door is always open. Come
meet us
or join
our events
and discover what Le Wagon could mean for you!
See you soon 👋