Discover
Everything you need to know about Le Wagon Amsterdam
Dive deeper into our campus life in Amsterdam. Learn about our bootcamps and discover our alumni and campus' daily life!
Why learn to code in Amsterdam?

The Le Wagon bootcamp experience

Claire's journey at Le Wagon Amsterdam
Our courses
Join our immersive bootcamps in Amsterdam
You will learn the most in-demand skills in weeks and land your dream job in tech!
Live classes
2 or 6 months
On site or Online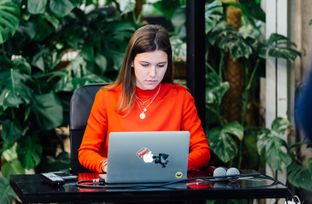 Web Development
Become a Software Developer and build web applications from database to user interface.
Learn Web Development
Events
Start your tech journey by attending a free workshop in Amsterdam
In addition to our courses, we host free evening workshops and entrepreneurial talks at our Amsterdam campus. Come down and meet us!
Do you need help with financing?
Understand your eligibility and learn how to finance your bootcamp.
Installment plan - Spread out your tuition payments.
Public funding - Get your bootcamp financed by government funding and subsidies.
Loans - Apply for a loan with one of our partners.
Scholarships - Benefit from social impact programs and discounts for underrepresented communities.



Alumni
Get hired at top tech companies
Be ready to learn job-ready skills in a matter of weeks with our career change programs.
3 months
on average to find a job
See what our students do after their bootcamp in Amsterdam
Margaux Noël

Full Stack Developer

Ace & Tate

Alexander Stearn

Junior Developer

FUGA

Gareth Burton-Durham

Senior Strategy Associate in Fintech

Booking.com

Eva Nguyen

Senior Associate

Strategy&

Daniel Wendel

Data Analyst

IntoAnalytics

Tristan Viney

Co-Founder

Troopl

Judith van Leersum

Founder

The Other Option

Inou Ridder

Back-end Developer

IRL

Iris Van Dijken

Frontend Developer

Media.Monks

Cyril Aubry

Data Analyst

N26

Sofia Giordano

Data Analyst

Klarna

José Freitas

Data Analyst

PwC

Phillip Zastrow

Data Analyst

Smart Pricer

Nicolas Huyghe

Senior Data Analyst

ManoMano
Campus life
Take a look at our campus in Amsterdam
Meet the staff in Amsterdam
Why you should study in Amsterdam
Amsterdam doesn't just attract the best tech talent because of the numerous job opportunities, but also because it's one of the most liveable cities in the world. It's actually ranked as one of the best cities in terms of work-life balance.
Amsterdam is a vibrant multicultural city. It's home to one of the highest number of nationalities in any city. Our batches reflect this as many of our students join us from around the globe.
Amsterdam is ranked as one of the world's best markets for tech companies. This is one of the reasons why it's a great place to launch your career in tech.
More than 90% of Dutch people speak English. There are therefore many great work opportunities for expats.
Amsterdam is one of the most cycle friendly cities: there are actually more bikes than residents. Enjoy your journey to and from our campus on a leisurely bike ride.
More than a bootcamp.
Join a global tech network for life.
By choosing Le Wagon, you are joining a supportive community of alumni, teachers, tech recruiters. Benefit from life-long access to the course material, and to our network job offers.
1,500
tech experts and professors