Discover
Everything you need to know about Le Wagon Dubai
Dive deeper into our campus life in Dubai. Learn about our bootcamps and discover our alumni and campus' daily life!
Hear from our students: Tariq, from Batch #477

Watch the journey of our 1st batch in Dubai and discover how 9 weeks change their life

Hear from our students: Bouchra, from Batch #477
Events
Start your tech journey by attending a free workshop in Dubai
In addition to our courses, we host free evening workshops and entrepreneurial talks at our Dubai campus. Come down and meet us!
Do you need help with financing?
Understand your eligibility and learn how to finance your bootcamp.
Installment plan - Spread out your tuition payments.
Scholarships - Benefit from social impact programs and discounts for underrepresented communities.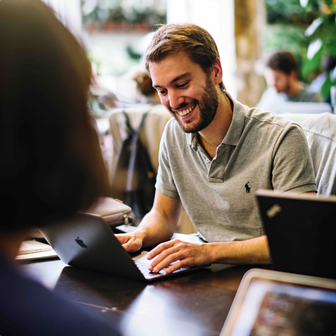 Alumni
Get hired at top tech companies
Be ready to learn job-ready skills in a matter of weeks with our career change programs.
3 months
on average to find a job
See what our students do after their bootcamp in Dubai
Tariq Ismail

Product Lead

KLAIM.ai

Bouchra Kostet

Product Manager

Kaso

Rana Farhat

Product Manager

MetaVentures International

Amina Makhusseyeva

Developper

Enoc link
Campus life
Take a look at our campus in Dubai
Why you should study in Dubai
Dubai is a fascinating place with a unique diversity of lifestyles and landscapes. In need of adrenaline? Skydive over the Palm or climb at the top of the highest building in the world and contemplate this vibrant city and its lights. In need of calmness and peace? Drive afar and you will be surrounded by the emptiness and the immensity of the desert. Dubai is the eternal duality of endless skyscrapers and modern civilization that emerged from the infinity of the arid desert.
Living in Dubai is also being immersed in a city where technology represents the future. Recently, the Smart Centers Index (SCI) ranked Dubai as "the best smart center in the Arab world for development of creativity, innovation and delivery of new technology". Throughout the years, Dubai became an entrepreneurial hub with its own startup ecosystem, incubators, accelerator programs and co-working spaces.
Today's Dubai is a fusion of more than 200 nationalities speaking over 300 languages and dialects – with Emiratis making up only around 10% of the population. It is among the top 10 most multicultural cities in the world as per studies conducted by BBC Travel and is set to become one of the most culturally diverse cities by 2030.
More than a bootcamp.
Join a global tech network for life.
By choosing Le Wagon, you are joining a supportive community of alumni, teachers, tech recruiters. Benefit from life-long access to the course material, and to our network job offers.
1,500
tech experts and professors