Course info
Master the fundamental skills of a Web Developer
in just a few weeks
Learn software fundamentals and databases
Grasp programming foundations, write robust code with object-oriented programming and build MVC software from scratch. Master relational databases and SQL.
Terminal
VS Code
Ruby
SQL
Master front-end development & web design
Develop responsive web pages with HTML, CSS and JavaScript. Master modern JavaScript and use key frameworks, including Vue.js, React and Stimulus.js.
Deploy your app from scratch
Build complete web applications and deploy them online on real domain that everyone can access. You're not a real developer until you've pushed something in production!
Heroku
Ruby on Rails
Adopt best-in-class development workflow
Understand product development tools & workflow. Validate your UX on Figma, organise team work and collaborate on GitHub. Cover your code with automated testing and continuous integration.
What you will learn in practice
You will learn web development through 6 modules, either full-time for 2 months or part-time for 6 months.
Prepwork: get ready to start the bootcamp
40h
Our web development course is very intense. To be prepared and make the most out of the bootcamp, you must complete a 40-hour preparation work to give you basic tech foundations and culture.


Web 101, how the web works
Terminal and Git basic commands
HTML, CSS and JavaScript foundations
Tech workflows and tools in a startup
What you will do in practice:
40 hours of online tutorials
Online quiz to validate basic tech knowledge
Foundations: code your first programs
56h
Master all the developer tools such as command line, text editor, and Git. Write your first programs manipulating variables, functions, data structures and more. Detect patterns in texts and extract data from any file, any website or by using APIs.


Developer tools and packages
Programming basics (variable, loops, functions, data structure)
Read / write from files (CSV, JSON, etc.)
Extract data through web-scraping or APIs
What you will build in practice:
Scripts detecting valid emails and phone numbers
Web scrapers collecting information from e-commerce websites
Lots of games based on your command line
Software architecture: build your first applications
40h
Structure your software following object-oriented principles. Learn one of the most used design patterns, the Model-View-Controller (MVC) and master it by coding several MVC apps from scratch.


Software design patterns (MVC)
Writing robust code easy to maintain
What you will build in practice:
MVC software from scratch
Food delivery app on your terminal
Database and SQL: store and extract data
24h
Learn to design relational databases and build queries with SQL. From simple CRUD queries (Create, Read, Update, Delete) to advanced JOIN queries, become a SQL pro! Learn to connect your database to your software with an ORM (Object Relational Mapping).


Relational databases
SQL (CRUD, JOIN)
Use an ORM (Active Record)
What you will build in practice:
Simple blogging app with a database
Scripts to extract data from a music database
Front-end development: master web technologies
80h
Design and code responsive websites with HTML, CSS and Bootstrap 5.0. Master JavaScript to add dynamic behaviours to your website. Practice modern JavaScript and use key frameworks, including Vue.js, React and Stimulus.js.


Code with HTML, CSS and Bootstrap 5
Master modern JavaScript for dynamic behaviour
Practise key JavaScript frameworks, including Vue.js, React and Stimulus.js
Use CSS page layouts with flexbox and grid
What you will build in practice:
Dynamic chats or todo apps with JavaScript
Reproductions of famous websites
A library of UI components in CSS
Responsive layouts and card grids
Web app development: put everything together
80h
Develop web applications from scratch following workflows of successful startups: design your app on Figma, collaborate on GitHub, code your app using Ruby on Rails and deploy it to production on a real domain. Learn to cover your code with tests.


Master the development of Web applications
Code using Ruby on Rails and JavaScript
Deploy in production on a real domain
Set up tests to cover your code
What you will build in practice:
Your own marketplace in teams
A recommendation website
3 different apps with Rails
Project weeks: build your own web app from scratch
80h
Projects Phase is the ultimate experience of the course: invent, pitch, design, code and deploy an original project in teams of 3 or 4 people during the two final weeks. Go through the entire process—from the idea to the live app in production on a real domain name!


Develop any idea into a live web application
Full product development cycle
What you will build in practice:
SaaS applications
Real-time games
Any app on music, travel, food, etc.
Career Week: start your career in tech!
Meet tech experts working in startups and companies, prepare your CV and do mock interviews to prepare your job search.


Preparation for your job search
Connection to our 20,000+ alumni and 985+ hiring partners
What you will do in practice:
1 week of career-building activities
1:1 coaching sessions
Q&A with our Alumni
Technical interview preparation
Locations
Where would you like to study web development?
You can choose to learn web development in over 45 locations worldwide or online. Find now your learning destination!
Need more details about our web development bootcamp?
Understand the goal of the bootcamp
Get our syllabus week by week
Understand our methodology
Download our web development syllabus
Admission
How to apply to our web development bootcamp
Our admission process is beginner-friendly and will give you a taste of our course. Start now!
The Web Development course is beginner-friendly, with no prerequisites required. What counts for us is that you're motivated to start your new tech journey.
2
Book an interview with our enrolment advisor
When you apply, we'll get back to you to schedule a 30 minute video interview. We'll talk about your professional background and your motivation.
3
Pass our technical quiz
You will take a technical quiz to assess your coding knowledge and your ability to learn.
4
Payment options & prepwork
The last step will consist of finding the most suitable financing option for you. Then, you'll jump into the prepwork which consists of 40h training.
Ask all your questions to our advisors
Financing options
Find the right financing
options for you
Finances shouldn't be a barrier to accessing our bootcamps. We're always finding new ways to facilitate payments and fundings.
See your financing options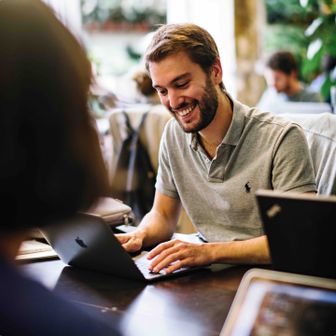 F.A.Q.
Once the bootcamps ends, you will benefit from our career services.


Our local team will help you prepare for tech interviews, meet the best local recruiters and connect with relevant alumni. You will also have access to a complete guide to kick-start your tech career after the course: boost your portfolio, prepare for technical interviews, leverage on our 10,000 alumni community, but also to lots of useful Slack channels to find jobs or freelance opportunities.


Our local team will introduce you to the right people depending on your goal and you will meet with inspiring alumni who will come back to share their post-bootcamp experiences, like how they found a job, started their own company or freelancing career.


These are some career services we will provide:


Networking events, job fairs, career workshops and office hours with alumni or tech recruiters
Coaching sessions with our Talent Manager or local alumni
Resources our Career Playbook
Introductions to our network of hiring partners through our Hiring Newsletter
Career week with practical workshops (from building a portfolio to inspiring talks)
Some cities offer specific funding options with local financial partners, like deferred tuition plans, student loans with interesting conditions or Income Share Agreements (ISA). Again, you will find more details about these options on the page of each city on Le Wagon's website. Also feel free to reach out to the local admission manager to have more details about their local funding options.
Soft skills are essential to navigate the dynamic and fast-paced tech industry. These include being an independent learner, possessing excellent problem-solving skills, enjoying learning new things, and having excellent communication skills.
On the technical side, a web developer needs to be proficient in HTML, CSS, JavaScript and, Ruby, UX and UI. And have a strong understanding of web development frameworks, APIs, and databases.
With these skills, a web developer can build responsive and visually stunning websites, maintain and update existing ones, and continually improve their craft to stay relevant in the ever-evolving tech industry.
You need to be 18 to enroll for the course. However, you can apply if you are 17 as long as you turn 18 before the start of the bootcamp.
At the end of the 9 weeks (full-time) or 24 weeks (part-time), you will have a Ruby on Rails junior developer level. This means you will be able to quickly prototype your ideas by creating web applications on your own. For instance, you will know how to include authentication to your web application (simple signin/signup, or Facebook/WeChat connect), add an admin back-office, include payment features, automate e-mails sending, and much more. You will also know how to quickly deploy in production and you will have learnt the programming best practices used by the best tech companies. You will then have different options at the end of the course:


Find a developer job (front-end developer, back-end developer or full-stack developer)
Find a tech-related job (e.g. product manager, solution engineer, operations manager, customer success manager, etc.) in a startup or a tech company
Continue your entrepreneurial journey
Become a freelance web developer
You will learn some concepts behind mobile app development. Let's be clear: you will not learn iOS, Android or Windows Phone development. We really think these skills cannot be taught (honestly) in 9 weeks. We prefer teaching you the basics of programming and web development for many reasons. First, these are the core skills of a software engineer, even if you want to dive into mobile development later on. Second, the web is THE open platform you need to understand. Thanks to Responsive Web Design (which is part of the program), and WeChat mini programs (in China), you will be able to create apps that will display nicely on mobile devices. You will also learn to create APIs that will be used by your mobile apps. It will then be very easy for any mobile developers to code your iOS or Android interface starting from the API you've built.
Web Development course


You don't need any technical background to join our web development bootcamp. We expect 3 things from our students: be (extremely) motivated, be curious, be social. If this sounds like you, then we'll be more than happy to have you on board if you pass all the selection process.


Data Science course


The Data Science course requires some basic knowledge of programming and mathematics.


How much programming do I need to know? Well, you must be comfortable with data types & variables, conditions, loops, functions and data structures like arrays and dictionaries (also called hashes in some programming languages). If you know those topics in other languages than Python (like Ruby, JavaScript, C++, etc.), you have the right programming prerequisites!
How much mathematics do I need to know? In order to join our Data Science course, you also need a minimum level in Mathematics and to be familiar with concepts covered in high school's scientific section. We need you to be comfortable with functions, their derivatives & systems of linear equations. To get up to speed, some additional preparation work will be given to you before the bootcamp start to get a refresh of all these concepts as well as more advanced knowledge on linear algebra and statistics.
In most cities, the bootcamp is taught in English.


In French cities, the program is in French. You will have a 1h30 lecture in the morning in French, and a 1h30 live-code in the evening in French as well. So, if you don't understand French correctly, you won't be able to attend the bootcamp in France.


In some other cities (São Paulo, Shanghai, Chengdu, Tokyo) specific sessions are organised in other languages (Brazilian Portuguese, Chinese, Japanese). You can check the language of the next batch on the "Apply" page.


Extra info: all the challenges' instructions and written documentation are in English, so all students must have a good level and understanding or written English, even in cities where lectures are given in another language.
You can join our web development bootcamp even if you don't have any technical background. 
We believe that anyone can learn to code as long as they possess three essential traits: a strong motivation, an inquisitive mind, and a sociable personality. 

If you fit this description, we would love to welcome you aboard, provided that you successfully pass our admissions process. Keep in mind that you need to be 18 minimum to enroll for the course.
To apply, simply complete the application form on our website by selecting:


The course (Web Development, Data Science)
The format (9-week full-time, 24-week part-time)
The city you're interested in
An introduction of why you want to join us and information about your personal project (if you have one!)
This is a quick process which only takes a few minutes. We will then contact you to schedule an interview (either in-person or online) to understand your motivations in more detail and answer any questions you have about our bootcamps.
Mastering programming basics and relational databases is essential before leaping into JavaScript. Unlike typical JavaScript courses, we emphasize relational databases, crucial in real-world contexts. Learn HTML, CSS, Ruby, and SQL to construct data-driven apps. This foundation empowers you to conquer challenges and craft interactive web experiences. Our hands-on approach, spanning HTML, CSS, Ruby, Rails, and JavaScript, ensures flexibility across technologies. Our focus on learning and adaptability equips you to confidently tackle new languages and frameworks.
More than a bootcamp.
Join a global tech network for life.
By choosing Le Wagon, you are joining a supportive community of alumni, teachers, tech recruiters. Benefit from life-long access to the course material, and to our network job offers.
1,500
tech experts and professors
Need more details about our web development bootcamp?
Understand the goal of the bootcamp
Get our syllabus week by week
Understand our methodology
Download our web development syllabus