Discover
Everything you need to know about Le Wagon Buenos Aires
Dive deeper into our campus life in Buenos Aires. Learn about our bootcamps and discover our alumni and campus' daily life!
Women Coding Day Argentina

Demo Day: Conocé los proyectos de finales de Data Science

Info Session - Studying at Le Wagon
Our courses
Join our immersive bootcamps in Buenos Aires
You will learn the most in-demand skills in weeks and land your dream job in tech!
Live classes
2 or 6 months
On site or Online
Events
Start your tech journey by attending a free workshop in Buenos Aires
In addition to our courses, we host free evening workshops and entrepreneurial talks at our Buenos Aires campus. Come down and meet us!
Buenos Aires does not have any future events at the moment.
Why not check out one of our FREE live webinars in web development, data analytics, or UX design.
Discover our workshops
Av. Dorrego 2133, C1414 CABA
Do you need help with financing?
Understand your eligibility and learn how to finance your bootcamp.
Installment plan - Spread out your tuition payments.
Loans - Apply for a loan with one of our partners.
Income Share Agreement (ISA) - Study now and repay only once you land a job.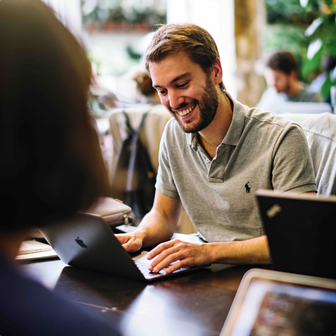 Alumni
Get hired at top tech companies
Be ready to learn job-ready skills in a matter of weeks with our career change programs.
3 months
on average to find a job
See what our students do after their bootcamp in Buenos Aires
Campus life
Take a look at our campus in Buenos Aires
Why you should study in Buenos Aires
Actualmente, Argentina vio nacer a 12 unicornios, que marcan la impronta emprendedora de los argentinos en el mundo y especialmente en el mundo tech.
Estamos ubicados en el centro de Palermo Soho, el mejor barrio de la ciudad para relajarse y disfrutar, en el increíble HUERTA COWORKING, donde se reúnen todos los días una gran cantidad de startups, community managers y freelancers para administrar su negocio. Siempre estamos creando un ambiente de creatividad e interacción para materializar tus ideas :)