Discover
Everything you need to know about Le Wagon Madrid
Dive deeper into our campus life in Madrid. Learn about our bootcamps and discover our alumni and campus' daily life!
Welcome to Le Wagon Madrid

Why we teach Ruby on Rails

Watch a Data Science Product Demo

Watch a Web Dev Product Demo
Our courses
Join our immersive bootcamps in Madrid
You will learn the most in-demand skills in weeks and land your dream job in tech!
Live classes
2 or 6 months
On site or Online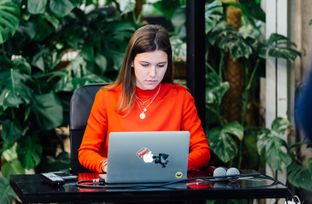 Web Development
Learn to build web applications from scratch and land a job in software development.
Learn Web Development
Data Science & AI
Analyze large datasets, build AI products and predictive models, and join a team of Data Scientists.
Learn Data Science & AI
Events
Start your tech journey by attending a free workshop in Madrid
In addition to our courses, we host free evening workshops and entrepreneurial talks at our Madrid campus. Come down and meet us!
Do you need help with financing?
Understand your eligibility and learn how to finance your bootcamp.
Installment plan - Spread out your tuition payments.
Loans - Apply for a loan with one of our partners.
Scholarships - Benefit from social impact programs and discounts for underrepresented communities.
Income Share Agreement (ISA) - Study now and repay only once you land a job.


Alumni
Get hired at top tech companies
Be ready to learn job-ready skills in a matter of weeks with our career change programs.
3 months
on average to find a job
See what our students do after their bootcamp in Madrid
Carolina Cota

Backend developer

N26

Lucas Lenci

Data Engineer

Hellofresh

Miguel Rodríguez

UX UI Designer

Afi

Caroline Bixner

Senior Service Designer

Deloitte Digital

Louis Bemberg

Software Product Reliability Engineer

Palantir

María Corredor

AI Specialist

TheCodeLives

Valeria Mignolo

Data Analyst

Domestic & General Iberia

Pascal Tiberghien

CTO & co-founder

Audemic

Daniel Sanchez

Data Analyst

IAG Loyalty

Ana Maria Benedetti

Software Delivery Analyst

Santander Global Tech

Carolina Soler

Product Lead

Talentoday

Barbie Zoani

Backend Engineer

Jobandtalent

Philip Morgenstern

Product Manager

MVP Factory

Maruan Aguerdouh

Software Developer

Odoo

Sara Rahali

Product Owner

Cocolabs

Inês Morais

Data Research Analyst

Morningstar

Juan Duarte

Full-stack Web Developer

Clever Ads

Jaime Rivas

Back-end Developer

Multiasistencia

Monica Randriamialy

Frontend Developer

iCastU

Mara Chimeno Cano

Software Engineer

Factorial HR

Mayra Gutiérrez López

Web Specialist

Eventim España

Alán Rodriguez

Ruby Developer

MASSOLIT
Campus life
Take a look at our campus in Madrid
Why you should study in Madrid
As some will love the cosmopolitan vibes of Barcelona (and we do too!), Madrid offers a more authentic Spanish experience. Practice your Spanish while ordering a caña, a café con leche or a pincho de tortilla, and let the madrileños teach you a word or two. You will be surprised by the welcoming atmosphere reserved to visitors in the capital city of Spain.
Madrid is the birthplace of many successful tech startups & scaleups, like Cabify, Bnext, Fintonic, Lingokids and Jobandtalent, to name a few. It also has a vibrant entrepreneurial community with strong players, such as La Nave. If entrepreneurship & the startup life isn't your scene, worry not! Madrid is the home of some of the biggest tech companies in the world, such as Meta, IBM, Google & Amazon. The city also hosts some amazing tech-related events, such as the South Summit, one of the biggest entrepreneurial events on the tech scene agenda.
While being profoundly Spanish, Madrid still has a very active community of expats! According to Statista, as of January 2021, the Community of Madrid was home to almost one million foreign residents. Listen to the many languages being spoken in the streets and enjoy the numerous language exchange events and expat gatherings happening almost every day of the week.
With only about 60 days of rain per year, Madrid has pretty spectacular weather. Yes, it is cold in the winter and hot in the summer, but the sun always shines and you will see madrileños enjoying a drink on a terrace pretty much all year round. It makes for a high quality of life and a very relaxed atmosphere, surprising for a capital city.
More than a bootcamp.
Join a global tech network for life.
By choosing Le Wagon, you are joining a supportive community of alumni, teachers, tech recruiters. Benefit from life-long access to the course material, and to our network job offers.
1,500
tech experts and professors