Discover
Everything you need to know about Le Wagon Barcelona
Dive deeper into our campus life in Barcelona. Learn about our bootcamps and discover our alumni and campus' daily life!
Welcome to Le Wagon Barcelona

Discover our new campus

Women in Le Wagon Barcelona

Working at Thoughtworks after Le Wagon

Why we teach Ruby on Rails
Our courses
Join our immersive bootcamps in Barcelona
You will learn the most in-demand skills in weeks and land your dream job in tech!
Live classes
2 or 6 months
On site or Online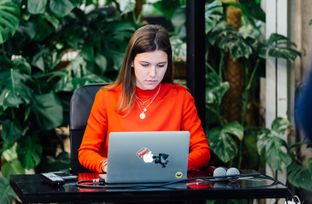 Web development
Learn to build web applications from scratch and land a job in software development.
Learn web development
Data science & AI
Analyze large datasets, build AI products and predictive models, and join a team of Data Scientists.
Learn data science & AI
Events
Start your tech journey by attending a free workshop in Barcelona
In addition to our courses, we host free evening workshops and entrepreneurial talks at our Barcelona campus. Come down and meet us!
Do you need help with financing?
Understand your eligibility and learn how to finance your bootcamp.
Installment plan - Spread out your tuition payments.
Loans - Apply for a loan with one of our partners.
Scholarships - Benefit from social impact programs and discounts for underrepresented communities.
Income Share Agreement (ISA) - Study now and repay only once you land a job.

Alumni
Get hired at top tech companies
Be ready to learn job-ready skills in a matter of weeks with our career change programs.
3 months
on average to find a job
See what our students do after their bootcamp in Barcelona
Lucas Lenci

Junior Data Engineer

Hellofresh

Luis-Gabriel Ayman Dayeh

Full-stack Web Developer

Amenitiz

Emily Millard

Graduate Developer

Sage

María Corredor

AI Specialist

TheCodeLives

Diana Perugia Baiadori

Junior Fullstack Developer

Dost

Guillem Roma

Junior Back-end developer

Workpath

Valeria Mignolo

Data Analyst

Domestic & General Iberia

Daniel Sanchez

Data Analyst

Iberia

Nicolás Frate González

Senior Data Analyst

Expedia Group

José Freitas

Data Scientist

PwC
Campus life
Take a look at our campus in Barcelona
Meet the staff in Barcelona
Why you should study in Barcelona
The beach, the sun and the palm trees make for a high quality of life. Many come to Barcelona for a while... and stay forever! Come give it a try, order a vermú and pan con tomate (pa amb tomàquet), and let the good vibes of Barcelona charm you.
There's a very high density of startups in Barcelona (Glovo, Wallbox, etc.), many established in the previously industrial area of Pobleneu that has been transformed into a modern tech and innovation hub. Thanks to the cosmopolitan vibes of the city, there're also a very large number of international companies settling in Barcelona, creating many job opportunities for expats & locals alike. The city also hosts global tech-related events, such as the Mobile World Congress, which focuses on all things mobile, and welcomes over 100,000 visitors from more than 200 different countries.
There aren't many cities in the world that rival the unique scene of Barcelona. The history, culture & attractions, together with a booming startup ecosystem, have made the city rise to the top ranks of tech hubs in Europe.
Of the 1.6M people in Barcelona, almost 400 thousand are foreigners. Enjoy the diverse community and rich intercultural vibes of Barcelona, where around 180 nationalities coexist and exchange. A rich cosmopolitan experience.
More than a bootcamp.
Join a global tech network for life.
By choosing Le Wagon, you are joining a supportive community of alumni, teachers, tech recruiters. Benefit from life-long access to the course material, and to our network job offers.
1,500
tech experts and professors