Discover
Everything you need to know about Le Wagon Lisbon
Dive deeper into our campus life in Lisbon. Learn about our bootcamps and discover our alumni and campus' daily life!
Learn to code in Lisbon

Why join a coding bootcamp

What can you build in 9 weeks
Our courses
Join our immersive bootcamps in Lisbon
You will learn the most in-demand skills in weeks and land your dream job in tech!
Live classes
2 or 6 months
On site or Online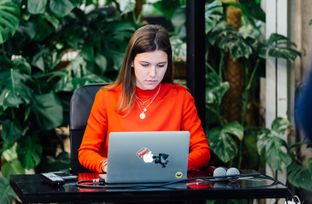 Web Development
Learn to build web applications from scratch and land a job in software development.
Learn Web Development
Data Science & AI
Analyze large datasets, build AI products and predictive models, and join a team of Data Scientists.
Learn Data Science & AI
Events
Start your tech journey by attending a free workshop in Lisbon
In addition to our courses, we host free evening workshops and entrepreneurial talks at our Lisbon campus. Come down and meet us!
Do you need help with financing?
Understand your eligibility and learn how to finance your bootcamp.
Installment plan - Spread out your tuition payments.
Scholarships - Benefit from social impact programs and discounts for underrepresented communities.
Income Share Agreement (ISA) - Study now and repay only once you land a job.



Alumni
Get hired at top tech companies
Be ready to learn job-ready skills in a matter of weeks with our career changing programs.
3 months
on average to find a job
See what our students do after their bootcamp in Lisbon
Beatriz Barroso

CTO

GoParity

Susanna Pezzini

Full-stack Developer

Gaspard+Bruno

Sofia Giordano

Data Analyst

Klarna

Phillip Zastrow

Data Analyst

Smart Pricer

Telo de Castro

CEO & Founder

WalliM

Lukas Fleischhauer

Data Engineer

K.D. Feddersen

Laura Bonnet

Product Analyst

Veed.io

Francisco Figueiredo

Software Engineer

B-Simple

Michele Scotellaro

Full-stack Developer

Rauva

Beatriz Seixas

Data Scientist

Closer Consulting

Inês Correia

Front-end Developer

YourCode

Joaquim Luís

Full-stack Developer

Starkdata

José Freitas

Data Analyst

PwC
Campus life
Take a look at our campus in Lisbon
Why you should study in Lisbon
Google, Mercedes, Amazon, you name it: several companies decided to set up their R&D (research and development) centers in Lisbon, leading to the creation of a new tech hub and thousands of job openings. Additionally, Lisbon is increasingly seen as a rising star for emerging startups, with exciting ventures and unicorns in the Fintech and Web 3.0 scene.
Safe and affordable, Lisbon is a fascinating mix of local traditions and international vibes. With 290 sunny days per year and many centuries of history, it is a city with an amazing mix of outdoors life and culture. Expats consider Portugal the 5th best country to live and work in 2021, besides being the 4th safest country in the world and second in the European Union.
Right in the heart of Europe's sunniest tech-hub, our campus is centrally located near Marquês de Pombal metro station and hosts our community of alumni, teachers and partners. A local network of almost 1.000 Wagoners is always ready to welcome new students from all over the world. Join us for beers and ping pong - and coding, of course!
More than a bootcamp.
Join a global tech network for life.
By choosing Le Wagon, you are joining a supportive community of alumni, teachers, tech recruiters. Benefit from life-long access to the course material, and to our network job offers.
1,500
tech experts and professors