Overview
Master Google Tag Manager, GA4 & Looker Studio
At the end of this skill course, you will:
Track the right metrics with the AARRR Framework
Set up your tagging plan with Google Tag Manager
Analyze your data with Google Analytics 4 and Looker Studio
This course is for you if...
You're a marketer and you want to master Google Analytics 4
You're a business owner looking to optimize website traffic
You're a data enthusiast eager to dive into traffic analysis
Secure your spot in our upcoming session
curriculum
What you'll learn in this web analytics & tracking course
In just 40h, you'll master the fundamentals of web analytics and tracking and be able to improve your website's performance.
Track the right metrics
From events and page views to KPIs, tracking plans, and the renowned AARRR framework, you'll gain a deep understanding of all the essential concepts for deciphering and optimizing your website's traffic.
What you will do in practice:
Identify and prioritize essential business KPIs
Create KPI frameworks for e-commerce and subscription apps
Set up your tagging plan
Craft a robust tracking strategy for both your website and application, ensuring efficient collaboration with developers or enabling self-implementation using Google Tag Manager.
What you will do in practice:
Translate a KPI framework into a tagging plan for your app.
Implement events on an e-commerce website
Tools you will learn:

Google Tag Manager
Analyze, interpret and share your results
Gain proficiency in Google Analytics, from interpreting results to crafting customized reports. Delve into GA4, and harness the power of Looker Studio to build dynamic dashboards from your Google Analytics data.
What you will do in practice:
Understand in detail the key statistics delivered by GA4
Segment your user database and analyze its behavior
Explore data and create advanced charts
Create and share dashboards with your teams
Tools you will learn:
Google Analytics 4
Looker Studio
Bring your newfound skills to life
Set up a comprehensive tracking plan on your website using GTM or collaborate with your technical teams for seamless implementation. Dive deep into Google Analytics, analyzing traffic data, and formulating actionable recommendations to enhance your website's performance.
What you will do in practice
Apply your learning to your own data and website
Or explore real-world cases prepared in collaboration with our partners
Want to learn more about our web analytics & tracking course?
Understand the goal of this skill course
Get our syllabus week by week
Understand our methodology
Download our web analytics & tracking syllabus
our method
Boost your skills learning from web analytics experts
With skilled and helpful teachers, you'll rapidly learn hands-on skills and build a strong foundation to further advance your career.
Apply your skills to real-world data

Learn in an immersive, hands-on environment

Gain lifetime access to Le Wagon's learning platform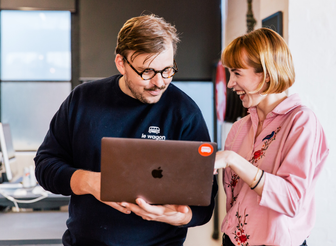 4.98/5
2,927 student reviews
4.9/5
1,279 student reviews
4.98/5
2,698 student reviews
Authors & Teachers


Book a free call with our advisors
Discuss your career
Decide which course is the best for you
Understanding your financing options
Get introduced to our methodology
FAQ
Your questions answered
Apart from a good internet connection, no! There are some tools to download, like Slack, but other tools (e-learning platforms and software) are accessible from your Internet browser.
Don't worry about it! Students with a project are invited to pitch their idea during the bootcamp while people without one are welcome to team up with them.
You need to have some professional work experience in a technical environment to join our course. We also expect that our students be motivated, curious and social. If this sounds like you, then we'll be more than happy to have you on board!
Some cities offer specific funding options with local financial partners, like deferred tuition plans, student loans, with interesting conditions or Income Share Agreements (ISA).
Learn more about our financing options
.