Discover
Everything you need to know about Le Wagon Zurich
Dive deeper into our campus life in Zurich. Learn about our bootcamps and discover our alumni and campus' daily life!
Le Wagon Zurich | A Bootcamp Experience in Zurich

Le Wagon Zurich | One word: Bootcamp experience

Le Wagon Zurich | Alumni Story | Johanna Björnsdottir
Our courses
Join our immersive bootcamps in Zurich
You will learn the most in-demand skills in weeks and land your dream job in tech!
Live classes
2 or 6 months
On site or Online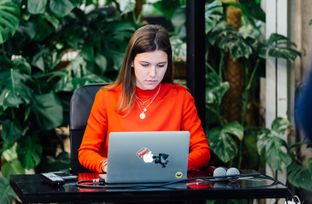 Web development
Learn to build web applications from scratch and land a job in software development.
Learn web development
Data science & AI
Analyze large datasets, build AI products and predictive models, and join a team of Data Scientists.
Learn data science & AI
Events
Start your tech journey by attending a free workshop in Zurich
In addition to our courses, we host free evening workshops and entrepreneurial talks at our Zurich campus. Come down and meet us!
Do you need help with financing?
Understand your eligibility and learn how to finance your bootcamp.
Installment plan - Spread out your tuition payments.
Public funding - Get your bootcamp financed by government funding and subsidies.
Loans - Apply for a loan with one of our partners.
Scholarships - Benefit from social impact programs and discounts for underrepresented communities.





Alumni
Get hired at top tech companies
Be ready to learn job-ready skills in a matter of weeks with our career change programs.
3 months
on average to find a job
See what our students do after their bootcamp in Zurich
Charlotte de Belay

Data Analyst

Nestlé

Siegfried Bozza

Software Engineer Intern

Renuo

James Hart

Data Analyst

Neo Instinct

Patricie Knopová

System Software Engineer

SIX

Aleksandra Hola

Fullstack Software Engineer Intern

Panter

Hadrien Morand

Teaching Assistant

Ecole Hôtelière de Lausanne

Yulia Mikhaylova

Software Engineer

ABB

Camille Ernoult

Management Consulting - Digital Transformation

KPMG

Thomas Lafaille

Co-founder

High Stakes Switzerland

Alex Lasky

User Experience Researcher

Notation Creative Consulting

Huey Yee (Kerry) Pang

Junior Software Engineer

SIX

Giannina Binder

Junior Web Developer - Motion Designer

Rosanna Montanaro

Market Data Processing Intern

SIX

Rosalie Quach

Product Manager

SBB
Campus life
Take a look at our campus in Zurich
Why you should study in Zurich
It is not a secret that is very tough to get access to the Swiss Job Market. But when you manage to enter it, it is very rewarding in terms of quality of life and salary. By studying in Zurich, benefit from our connections with local hiring companies and start networking right from the beginning of the bootcamp with recruiters, alumni, teachers, event speakers and participants, etc.
The annual EIU report (Global Liveability Index 2022) provides a ranking of the best places to live in the world – 173 cities scored across five broad categories and ranked according to stability, healthcare, culture and environment, education, and infrastructure. Zurich has been ranked 3rd with an overall rating of 96.3, just below Copenhagen and Vienna. Often mistaken as Switzerland's capital (that's actually Bern), Zürich is its largest and wealthiest city, meaning it attracts people from all over the world looking to live a better life. Once they arrive, most quickly discover the city's true appeal – yes, it's efficient, clean and well run but scratch a little below the surface and you'll discover a post-industrial cauldron of young and old creatives treading its winding streets, venturing into the surrounding mountains and lakes in search of adventure, bringing new ideas to life, and buzzing with the opportunities of what may be thanks to its 'anything is possible' atmosphere. Commuting to work by floating down the Limmat River is also a great way to start each day!
Switzerland is playing a key role in building the next dimension of the internet: the metaverse. Thanks to the influence of the Swiss Federal Institute of Technology Zurich (ETH Zurich), Microsoft, Facebook, Google, Disney Research and Magic Leap have all opened offices or research laboratories in Switzerland's economic capital.
The city of Zurich is the largest technology hub with an impressive number of 100,000 registered software developers, and also the largest foreign community!
Switzerland is home to world-renowned universities and research institutes in the area of AI, such as the two federal institutes of technology ETH Zurich and EPFL in Lausanne, IDSIA in Lugano, IDIAP in Martigny, and many cantonal universities. This proximity to cutting-edge research is an important reason why global tech companies such as Google, IBM, and HPE conduct their research from here. Thanks to its traditional strength in the field of life sciences, Switzerland also drives AI developments in healthcare and pharmaceuticals. There is a closely-knit tech ecosystem in place that brings innovative products to the market quickly.
Its rich heritage of financial security, strong privacy laws and a pragmatic regulatory approach made Switzerland a vibrant hub for new business ideas in the field of distributed ledger technology (DLT) such as blockchain.
More than a bootcamp.
Join a global tech network for life.
By choosing Le Wagon, you are joining a supportive community of alumni, teachers, tech recruiters. Benefit from life-long access to the course material, and to our network job offers.
1,500
tech experts and professors